If you read yesterday's post – You probably got a hint of how we figured out night time diapering with minimal leakage.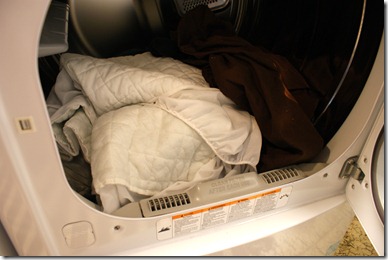 Previously, we were having to wash sheets on a daily basis – and then I found some waterproof pads that were given to me back when I was pregnant with Andrew – and layed those down. But with those pads, we couldn't tell if they were wet from pee or sweat! It wasn't fun, but it was better than pulling sheets off and on again each day.
I got my hands on some Thirsties Fab Fitteds, and the Happy Hempy diaper, along with the Super Do Inserts and some Baby Kicks Hemp inserts – and then we were great to go for night time.
We stuff the pocket of the Thirsties Fab Fitted or the Happy Hempy diaper with either a SuperDo or a double-layer BabyKicks JoeyBunz insert and cover it all with a wrap.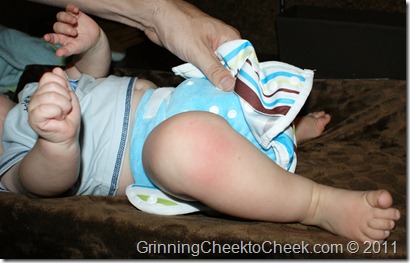 It makes for quite the puffy diaper… and we joke that Andrew walks like Sid the Science Kid (Who we adore, but just think he walks like he's got a turd hanging out of his behind!) but it works!
Important note: We have to be sure that every little last bit of cloth is tucked into that wrap – or whatever tiny piece of cloth that hangs out will end up soaking the mattress or Ethan's clothes.
What is so unbelievable, is that when I take off the wrap of the diapers – the insides – are SOAKED. Top to bottom, side to side – soaked. The boys don't seem to be complaining any more than normal at night, but I do notice their skin a tiny bit wet in the morning. not soaked like it has been before, but more damp than dry.
It's for that reason, that I am typically stuck changing out the morning diaper. My husband has issues with getting his hands wet with pee… Even if it does just wash off.