A guest post from my dear friend Sadie at SlapDashMom.com:
In America, at least since I became a parent, it's been deemed as normal to turn our babies to be front-facing in their car seats at 12 months of age, and 20 pounds. I know some folks have turned their babies around even earlier when they hit the 20 pound mark. It seems as if the trend is changing, because all I see online is how parents are leaving their children rear-facing for as long as possible.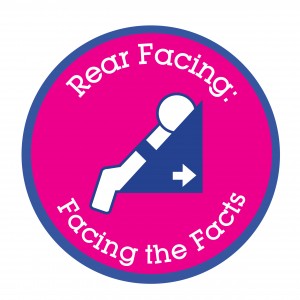 How long should your child be rear-facing?
According to research, it's safest to keep them rear-facing for as long as possible. I think it's a bit dramatic when I see people rear-facing their 8 year old child, but I can see rear-facing until they are preschool age. That's simply personal opinion, though, as I don't have any children young enough to worry about rear-facing anymore. My youngest is turning 6 in a few weeks and is in a high back booster seat.
We got into a car accident the other day, and she was restrained safely enough in her booster seat that she was not injured. I don't think having her rear-facing would have changed that.
How do I install my rear-facing car seat?
Installing a rear-facing car seat isn't as difficult as you may think. Each car seat comes with a manual, and should have images showing you exactly how to install your seat.
Most seats have a belt-path that is clear to see when you place the seat in the car. Using your manual as well as common sense, simply tether the car seat and then run the seatbelt through the belt path.
Make sure the car seat is snug in the seat belt, and make sure the seat belt is latched properly. If your car seat has the tether option, tether the car seat securely into your vehicle before using it. While strapping your child in, make sure the chest clip is at the chest, and everything snaps or buckles into its proper place. Never buckle your child while wearing a big winter coat – remove the coat and then buckle your child.
How old were your children when you had them front-facing in their car seats?