I get the question a lot, especially from people who try at their best efforts to avoid the dentist (due to fear, costs, etc). Ultimately, my *best* recommendation is to see your Dentist (and hygienist) to have the tarter removed as effectively as possible.
HOWEVER: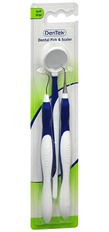 As a product recommend-er, – I do know that they sell scalers in the dental section at many stores along with mouth mirrors that you can use to remove the tartar above the gum line. This is meant to use between appointments to keep your smile looking and feeling good.
This product was released not as a supplement to dental treatment – but mainly because there are some people are just naturally 'tarter builders'. They have excess calcium in their saliva, which in turn hardens the plaque at a much faster rate. Many people like this seek the dentist even more than the regular two times per year, and brush/floss all they can – but they still get tarter between their teeth and it begins to bother their tongue. This is the main reason to use the store bought scalers – so you can remove the buildup between appointments.
HUGE NOTE:
Keep in mind that if has been a while since you've seen the dentist and you have tarter buildup above the gum line – you likely have tarter buildup below the gum line as well. It would be nearly impossible (and quite dangerous) for you to try to remove that yourself.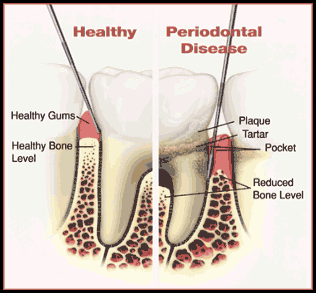 Photo Source Unknown
Why do we want to get rid of tarter under the gums?
Tarter buildup creates a harsh environment for the surrounding bone of the tooth. It creates a blockade that does not allow the gums to attach to the tooth, creating a 'pocket' or a space between the tooth and your gums. At each dental appointment the hygienist measures that space. That space is important to be aware of, because the bacteria in your mouth builds up down there, and your toothbrush only reaches 1-2mm below the gum line at BEST. Flossing gets you maybe to 3mm (again, at best if you're doing it perfectly). So when you have bacteria below the 1-3mm space, it becomes aggressive, and starts to deteriorate the bone surrounding the tooth, creating an infection and ultimately leading to tooth loss.
I'll get into this in more detail about this (periodontal disease) another day.
Big Take-Home: See your dentist, and get your teeth cleaned regularly! 😀