My in-laws were over at our house for the first time today since we moved.  Not sure what took them so very long to come see the place, but we were glad that they came.  It was fun to walk through the house just like we did when we were looking at buying it – and talk about all the things that we would like to do with the place… when we can afford to.
Besides all the things that I've already talked about doing (floors, deck, garage doors.. what not) we'd like to upgrade the kitchen a little.
See we have this one corner in our kitchen, that is pretty much empty.
I'd love to see a Homestyles Kitchen Island in that area with the wall opened up more.   I did at one point get a price quote for remodeling the kitchen, and adding counter and cupboard space there. I'd love extra space for storing my cookware and other misc. things.  Without doing a full remodel – I would like to add a large cabinet and drawer section against the wall.  I would have a large cabinet and a small cabinet – both with pull-outs.  But.  It is too Expensive and totally not necessary for this point in time.  Someday!
When we moved in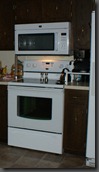 there was no microwave.  Above the (very old) stove was a hood/fan that was nasty and greasy.  We were trying to figure out whether or not to get a new stove/microwave for that area – or just to keep the stove and hood and get a small kitchen cart for the open area.  We ended up going with the stove/microwave after realizing that the current stove wasn't so awesome.
We talked about the many outdoor projects that need to be done – but realized after doing a big walkthrough again –that there really isn't as many big projects as it feels like needs to get done. I'm glad that we did another walk-through like that.  It's great to have our nice big home that really needs some work – but is totally liveable in the meantime.