After our offer was accepted on our home, we moved in to the stage of having a home inspection done.  To do the inspection (because it was in the middle of the winter) we had to have the house de-winterized and get the heat and water working.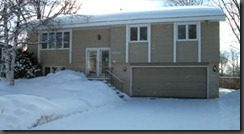 When we did the inspection, the inspector did find that the furnace had a small leak, and he also found an area of mold in the downstairs bedroom closet.  There was a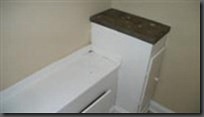 bench/drawer that was built in to the closet and inside of this bench/drawer was totally wet and moldy.  We did not want to buy a house that had active mold because of the health concerns for our children. So we made a deal with the bank that they would get both of those items taken care of before closing. And they did.
After moving in though; we discovered that they must have waited to fix the furnace for a few weeks – because now the wall next to the furnace where that small leak was; was totally wet a few feet up and was moldy under all the floorboards. So we still had to deal with active mold.  We used bleach and space heaters to kill the mold.
But the problem is – how do you know… Really know that there is no more mold left?  We were pretty concerned about this because both Joe and I grew up in a house with mold growing all over; and we both had health issues because of it! How was I supposed to know that they took care of this mold behind the wall after they tore out the bench.  For all I know, is they just put up new sheet rock over the mold to make it look pretty.  How am I to know if the bleach we used near the furnace killed all the active mold? Should we keep the kids out of the laundry room? How long? When is it safe?  All these questions had to be answered some how!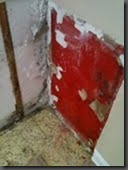 So we decided that we were going to have to do some sort of testing – And researched online what types of testing you can do to check your house for mold spores. I came across a company called Home Air Check.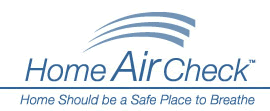 Home Air Check™ is simply the most powerful analysis technology ever developed for monitoring home air quality. Home Air Check monitors for hundreds of airborne chemicals, called VOCs, or Volatile Organic Compounds, that may be present in your home. In fact, Home Air Check is so sensitive that it can measure the presence of actively growing mold (or Mold VOCs — the chemicals off-gassed into the air from growing mold), behind walls or in carpeting, even if the mold is not visible.
After reading a bit about the Home Air Check analysis, we decided that this is definitely what we needed. The piece of mind that comes along with knowing that you are not living amongst active mold or other VOC's!
I contacted the company right away and asked for a kit.  They were so amazingly helpful and supportive through the whole process.  The directions were simple and easy – I was able to set it up and do it on my own; and all the materials are right there for you to use.  They also give you a pre-paid label for you to ship the kit back to the lab just by dropping it off at the nearest UPS drop off or having UPS pick it up from you.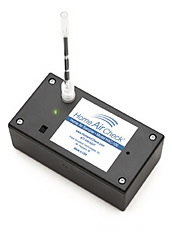 It takes a little over a week to get the results – but when they came – we were quite relieved to find that our mold level was at a 3- when everything under 8 is considered normal; and our VOC's were slightly elevated but not terrible.  They give you a list of the primary and secondary 'ingredients' in your VOC's – Our primary problem was paint and insecticides– which the house was painted just months before hand from top to bottom and we had just sprayed insecticide all around the basement due to a spider outbreak *Cringe*; and the secondary causes being gasoline (with a tuck-under garage); scented cleaning products (which I was going crazy with bleach and candles!) and personal care products (which were mostly still in boxes – but pretty potent I know..).
It is very reassuring to me that we got the mold out of the walls and that we're not living with crazy harmful air for my family to breathe! It just gave me that extra reassurance that I didn't have to keep bothering my husband to put more and more bleach on a wall.
After receiving the report; I was given the opportunity to discuss with the home air check company about the different source possibilties of our VOC's and figure out what things we can do around the house to help get rid of them.  They are an amazing company to offer that type of support instead of just leaving you hanging there with a sheet of results and no idea what to do about them! However – the report you get is quite detailed; and unless you had larger issues on the report – it is quite self-explanatory.
Do you ever feel like you'd like some reassurance on your home?  I guarantee it lifted a huge weight off of my shoulders knowing that my family was breathing safely; and that if I did have some forms of contamination of molds or other VOC's I would have had the help and know-how to identify the problem areas and get a much safer environment for my family to live in.
That's why I'm really excited to share with you that Home Air Check is  offering one of my readers a free screening!! This is an amazing opportunity – and I do truly hope that if you're not a winner for a free evaluation that you do consider getting your home checked for VOC's and mold; because they can really make you and your family ill.
Win It!!
One Lucky winner will receive a free Home Air Check Screening, valued at $140!
This first entry is MANDATORY: Please visit http://www.homeaircheck.com and tell me something that you have learned about VOC's or about Home Air Check that I have not mentioned here.
Optional Extra Entries: (only after mandatory entry is done!)
Subscribe to my blog via email
Follow my blog publicly via GFC
Follow my blog via Networked Blogs
Post my NEW Button on your blog. This button is different from the old one and the coding will need to be changed.
Follow GrinCheek2Cheek on Twitter on twitter and tweet about this giveaway:  (this may be done daily)
Are you sure you don't have any mold in your house? #Win a Home Air Check test @GrinCheek2Cheek #Giveaway Ends 5/6  http://tiny.ly/e1Pi
Like Home Air Check on Facebook
Like GrinningCheektoCheek on Facebook!
Vote for me on picket fence blogs. One Entry per vote(per day).
Enter any of my other Current giveaways. 1 extra entry per CURRENT contest entered.
NEW: Post my link on any of

that day's

CURRENT

Public Giveaway linky for this giveaway.  Should say something like – GC2C–Home Air Check- Ends 5/6 *and the link*. Comment to me the link to where you submitted it. (i.e. for a Tuesday Giveaway Linky – post it anytime before midnight that same Tuesday)
Open  to U.S. only.  Giveaway ends May 6th, 2011 at 11:59pm. Winner  will be drawn by random.org the following day, and will be e-mailed. Winner will have 48 hours to respond or a new winner will be drawn.  Winners will be announced on this blog after all have responded.  I received a free test kit for review purposes. All opinions here are 100% my own.