2017 Holiday Gift Guide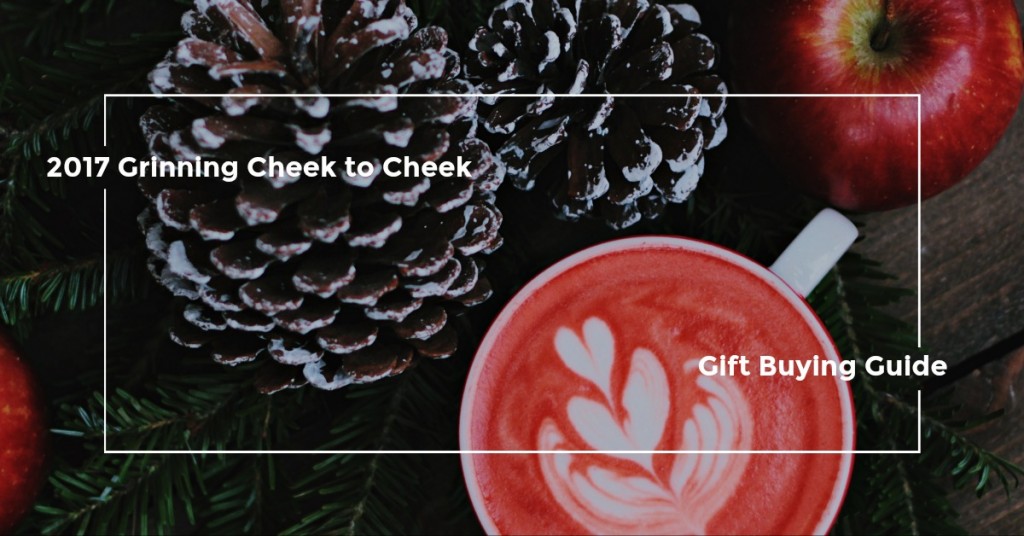 Welcome to the Grinning Cheek to Cheek Holiday Gift Buying Guide. Bringing you some of 2017's best gift ideas. From gifts for baby to top toddler toys our gift .Enjoy our suggestions and best of luck shopping!

Finn + Emma Rattle Buddies
Ages 0+ | ARV: $28.00
Finn + Emma make super adorable 100% organically grown teethers, pjs, play gyms, rattles, and more! We had the chance to check out a Rattle Buddy called Belle the Bunny and it's so cute! It's the perfect size for baby hands with easy-to-grab arms, legs, and ears. The body is cute and exactly true to the online picture. Plus hand-knit, organically-grown, and non-toxic so I don't have to worry about a thing. This is a fun little toy that any baby could love, snuggle, and play with for years to come. And the Rattle Buddies come in a variety of animals, so you can pick one that fits your baby best!
Website| Facebook | Twitter| Buy Now!
Cocoon Cam
Ages 0+ | ARV: $149.99
The Cocoon Cam is a great WiFi video cam that does so much more! It functions as a high quality video monitor (through a phone app), and keeps audio in the background while you are in other apps. The most interesting part of this monitor is that it monitors and tracks baby's breathing. This takes detailed set-up and a subscription (free the first 6 months), but seems decently accurate. The app will alert you to changes in breathing pattern and baby's movements, which is as helpful as you let it be. Keep that precious bundle close even when you are far away with a Cocoon Cam!
Website| Facebook | Twitter| Buy Now!
Binxy Baby Shopping Cart Hammock
Ages 0+ | ARV: $49.95
I absolutely wish I had one of these when my second kiddo was a baby! The Binxy Baby Shopping Cart Hammock straps onto a standard shopping cart basket to create a second, baby-size seat. Either strap the car seat safely into the hammock, or strap baby right into the hammock. Either way, baby is safe a sound, sitting sideways above the cart. Plenty of room underneath for all the groceries, and safe up to 50 pounds! Absolutely great product idea, huge space saver for shopping, and great for keeping baby safe while mom or dad shop!
Website| Facebook | Twitter| Buy Now!

Wonder Crew
Ages 3+ | ARV: $29.99
Wonder Crew is your child's next best superhero friend. developed by a therapist to promote social and emotional learning, imagination, and build confidence. Wonder Crew superheroes were designed to help boys see themselves as caring, creative and strong people. Wonder Crew available in Erik, Marco, James and Will.
Website| Facebook | Twitter| Buy Now!
Cabbage Patch Kids Little Sprouts
Ages 3+ | ARV: $3.99+

Cabbage Patch Kids are a classic toys, an Wicked Cool Toys has made them into little collectibles, complete with pets, a little academy, and a little vet clinic! Get them individually, in pairs of baby and pet, or in bigger sets of 4 or 8 friends. These are great for you child that loves to play pretend an go on adventures with their own miniature cabbage patch kids, babies, and pets.
Website| Facebook | Twitter | Buy Now!
Shark ION Robot
Adults | ARV: $349
The Shark ION Robot is at the top of everyone's wish list this year. The Shark ION Robot cleans, docks and recharges itself automatically. Helping you stay ahead of the everyday pickup. With the user-friendly app clean up is a breeze. Why not purchase a Shark ION Robot for a friend family this holiday season. Grinning Cheek to Cheek received this Shark ION Robot from Shark as compensation for use in gift guide. opinions are 100% our own and are not influenced by compensation.
Website| Facebook | Twitter| Buy Now!

Click and Grown Smart Garden
Adults | ARV: $99
The Click and Grow Smart Garden is a great way to grow many of your everyday herbs, flowers, and fruit. Grow basil, wild strawberries and many more of your favorites right in your home. The Smart Garden comes with a refillable water reservoir and a handy app to help maintain your garden.


Website| Facebook |Review Coming Soon| Twitter| Buy Now!