At BlogHer I was able to meet some people from Hexbug.  They had some of the coolest toys out there, I wanted to get a chance to give them a try.

They have so many sets to choose from at Hexbug, but We ordered the Nano Habitat Set – Bridge Battle, as I thought that was really awesome to get the Hexbug Nano's to battle it out!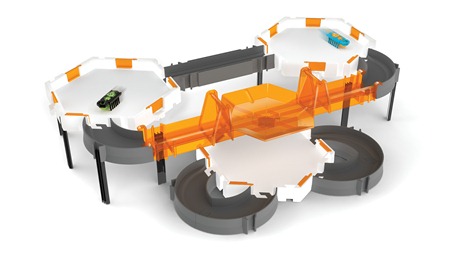 The HEXBUG® Nano Bridge Battle Habitat Set allows kids to create the ultimate battleground for the HEXBUG Nano. HEXBUG Nano owners place their bugs on either side of the elevated arena where they must scurry over an orange bridge, through one-way gates and meet in the center battle platform. HEXBUG Nanos nudge and knock their competitor out of the battle arena until only one bug is left standing and reigned champion. Bridge Battle comes with 29 easy connect pieces and two rare HEXBUG Nanos.
My Husband was home when the box was delivered, and he was pretty excited to see something that he could play with too!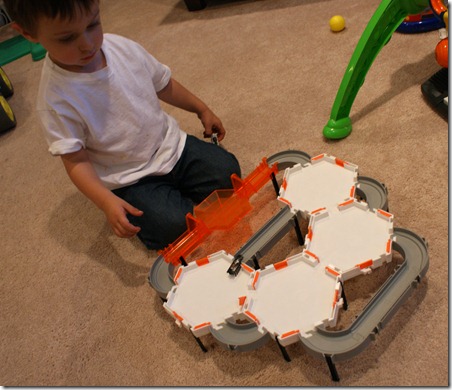 He set the track up with Andrew – you can set it up however you would like. Because of Andrew's "heavy hands" we chose to set it up as a one level item – otherwise we'd constantly be needing to 'fix it please!!'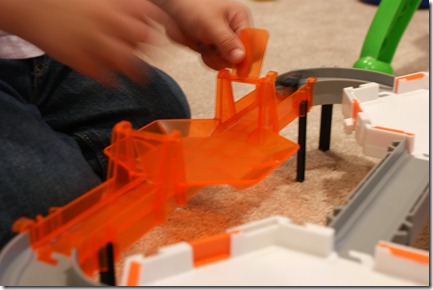 Its really neat that you can open and close the openings to the Hex's because you can lock bugs in or out of an area – or direct them where you want them to go.  They'll always find their way!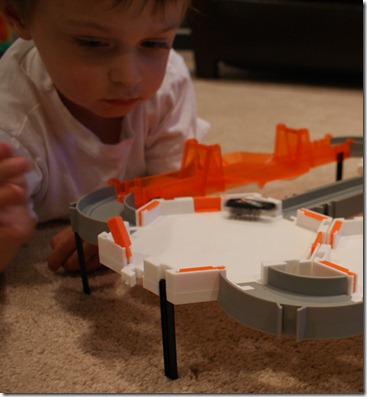 Andrew likes to try to drive the Nano's around as if they were cars.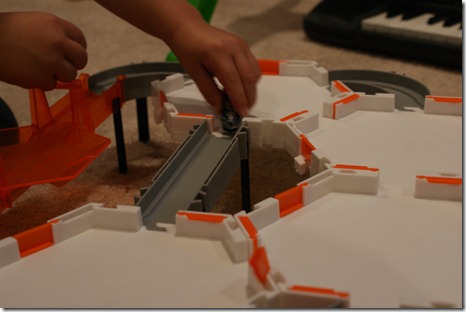 We've had a lot of fun playing with our Hexbug Nano Bridge Battle set – but unfortunately after a few days, the batteries on the Nano's died.  It's a minor setback for the bugs, but I can't be sure that we didn't leave them on overnight or anything – they don't exactly make noise (and with toddlers, you never know!)
You will find Hexbug Nano products at Target, Toys R Us, Radio Shack, and online at www.hexbug.com.