This summer I had a crazy awesome opportunity to review a pair of Heely's – not only for myself – but also a pair for my husband.  I was SO excited!
Have you heard of Heelys? If you haven't – then I'm sure you've seen the kids that ride around on them.  They're just like shoes – but they have a wheel on the heel of the shoe, which allows you to 'roll' where you're going.
The kids make them look SO easy – and so much fun!!
Now.  My husband is pretty Athletic.  He's not afraid of much, and he is pretty strong/balanced.  Me on the other hand – I am not.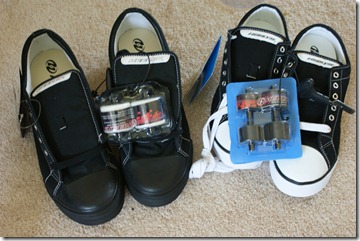 So when ordering, Joe got the normal pair… and I got the HX2 – the pair with an extra wheel for more balance.  I figured I could use the extra help, much as a younger child might need to learn.  The great thing about the HX2 is that you can pull out a wheel when you're comfortable with just one – and they're just like a regular Heely!
Upon putting them on – my husband almost instantly went outside and started rolling in the driveway.  He is a natural.  He loves them.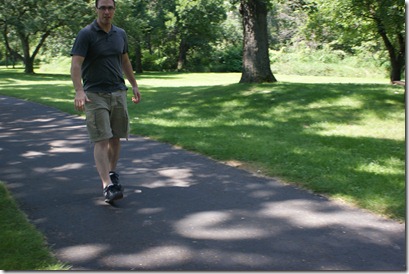 Me?  HaaA!! I don't think you want to know.
You do?? Ok. I'll tell you!
I *almost* fell on my butt.. every time I tried to move.
Unfortunately these Heely's are not for me – I have zero balance.  Even trying to push a stroller I can't seem to let myself let go of the ground.  Too scary!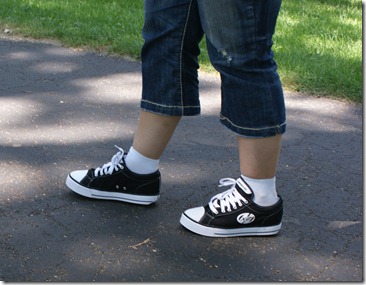 So, I 'posed' nicely for a picture – and then I took them off.
Someday my nephew (who also sports Heelys) will have my size shoe – and will enjoy my Heelys!  Good thing I got Black!
I think they are such an aweseme tyoe and I wish that I could do them better, but I just don't trust my balance and my body enough to let go and balance!! If you get the opportunity to try them out – I highly encourage it!! I'd be interested to hear how you do!  Kids – we all know they can do these with no hesitations!
Either way – Heely's make a great gift – and are practically an essential thing for children these days!  They love them!  You can purchase them at many retailers, or Online at http://shop.heelys.com/.