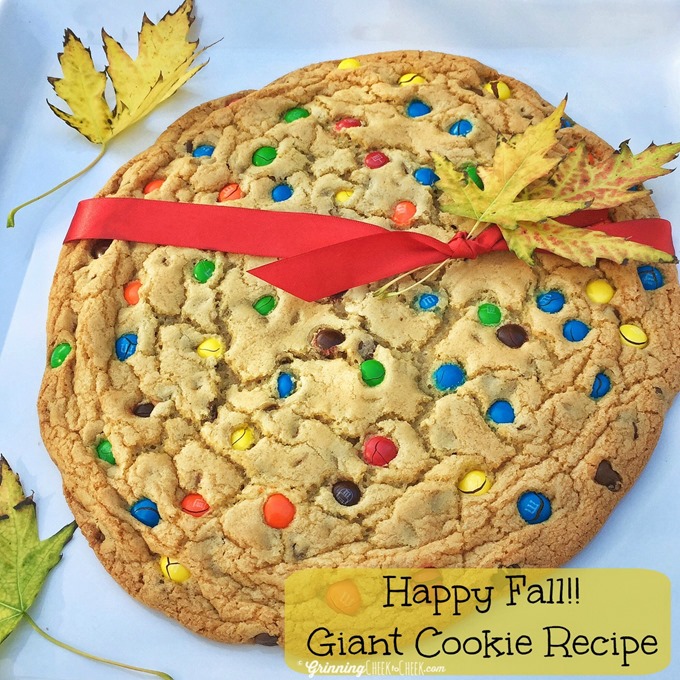 So I know I've mentioned in the past that I have a love-hate relationship with cooking. I love cooking/baking – but I hate the mess! Therefore, I try my best but I'm often battling myself on the idea of cooking. I do love giving baked goods as gifts, though! So the other day we were heading to have some lunch with a friend and her kids, so we decided to put together a GIANT cookie to bring along! This is so simple and so very awesome (and extremely tasty!) and also quite fail-proof. I got the recipe from melskitchencafe.com, which is one of my favorite recipe bloggers right now. Obviously this recipe can be made any time of the year – not Just FALL!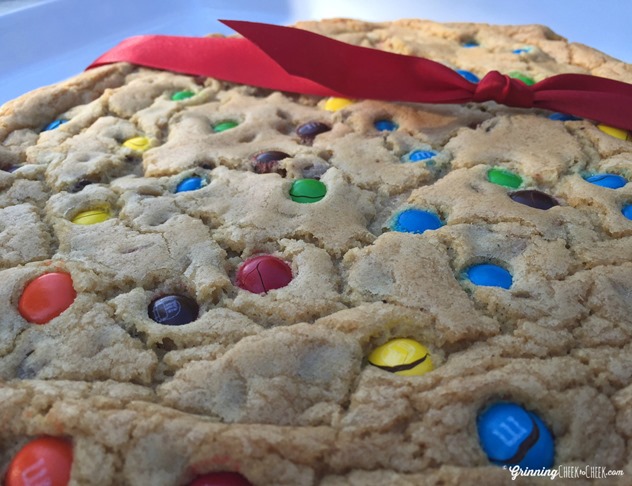 Giant Cookie Recipe
Ingredients:
1/2 C. White Sugar
1/2 C. Brown Sugar
1/2 C. Butter – Melted and Cooled
1 Egg
1/2 tsp. Baking Soda
1/2 tsp. Salt
1/2 tsp. Vanilla
1 1/2 C. Flour
1/2 C. Chocolate Chips
M&M's or other toppings (optional)
Directions:
Preheat oven to 350 degrees. In a medium bowl or mixer, cream the sugars and butter. Add the egg and vanilla and mix. Then add the dry ingredients and mix well. Fold in the chocolate chips.
Line a large pan with foil and push the dough into a circle shape, around 1/2-3/8" thick. When it bakes it spreads to about 11 inches (which Mel points out that it fits perfectly on the 12" round cardboard circles you can find in craft stores).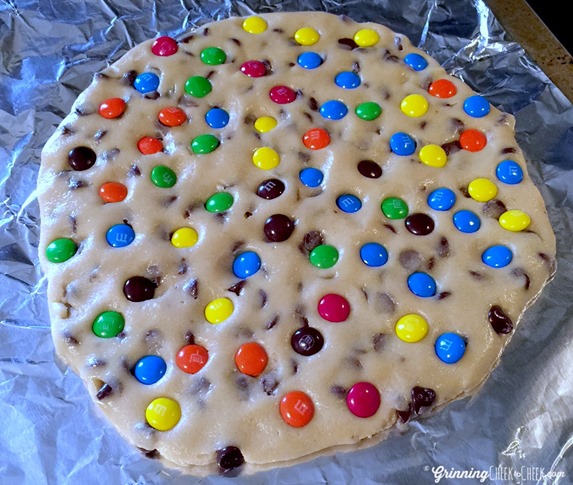 If desired, top the cookie w/M&M's or any other toppings you would like. Bake for 13-16 minutes until the cookie is starting to crack in the middle and golden brown all over. Be sure to let the cookie cool completely before moving it anywhere or it will break. Remove the cookie from the pan with the tinfoil.
Wrapping a bow around it makes it extra special, I think 🙂