My little man, Ethan, had the opportunity to review some pajamas from Halo.  They are the ComfortLuxe PJ's: and we love them! (we ordered in the next size up just to be sure we'd get the most use out of them, that's why they're a little baggy on Ethan)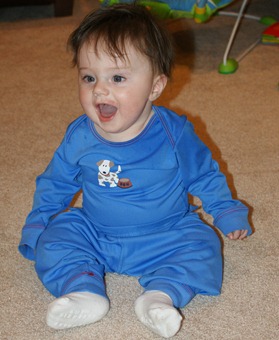 HALO ComfortLuxe is made from a special type of of fabric that is way better on baby's skin than cotton because it wicks away moisture and regulates your little one's body temperature.  It is breathable and dries twice as fast as cotton.  It is also SUPER soft, almost silky – but very comfortable.
These are perfect jammies for us because Ethan is such a drooley monster– and spits up constantly.  He is always wet. His lips are usually chapped (as you can see in the photo) because he just constantly has saliva pouring out.  It typically takes him less than 20 seconds to make a clean outfit dirty.  He's our little puker.  You might not notice this unless if you look closely – but his left shoulder is completely soaked.  He puked as soon as I put the jammies on.  Then he was drooling on the right shoulder also.  But these jammies leave his skin dry – which is what matters most!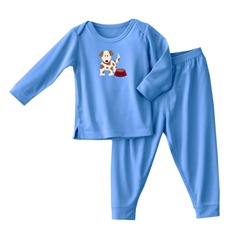 So if your baby has sensitive skin – this is the perfect type of PJ's for you.  ComfortLuxe Sleepwear is constructed thoughtfully to help reduce irritations that may trigger the onset of the "itch-scratch" cycle. These details include:
Flat interior seams to reduce abrasion.
Rollover Cuffs to prevent scratching (Coverall and Base Layer)

These jammies are perfect for any climate too – they help your baby to stay warmer when it's cool; and cooler when its warm!
They even make a pajama for infants that are using the HALO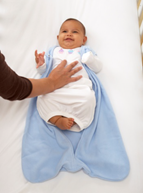 SleepSack.  I know we used the SleepSack every night for the first few months of Ethans life; and our main problem was that his little arms would be cold if he was in a short sleeved onesie! We had to put him in an outfit with  long sleeves first – and then put the SleepSack on – which often left him sweaty.  But he liked to be snuggled- so we did it anyway.
The base layer is a perfect option for the SleepSack because it will keep your baby cool, and dry, but their arms covered – and you can cover up those little fingernails so they don't scratch themselves in bed!
To learn more about HALO ComfortLuxe sleepwear or any other HALO items like the SleepSak – visit them on the web at ww.halocomfortluxe.com.  They are also on facebook at: www.facebook.com/halocomfortluxe. All the sleepwear items can be purchased around the $20 price range.