I'm saying that as a good thing, really.  I love Halloween – and I love dressing up for Halloween.  Problem is?  My husband hates it..  So while I knew that we both *needed* a costume this year

I wanted to be somewhat coordinated in our efforts.
As If it wasn't hard enough for me to find a costume that I can convince my husband to wear, I have my own issues as well:
I dislike how much skin most women's costumes show.  I mean – I don't have hot legs – so I'm definitely wanting a costume that doesn't go above my knees. And I certainly want a costume that covers my belly, without being a pumpkin or Potato.
In Comes Halloween Express.  They have so much selection for all things Halloween, that it's almost crazy! From thousands of Costume options, to Decorations and Party Supplies – They've got you covered!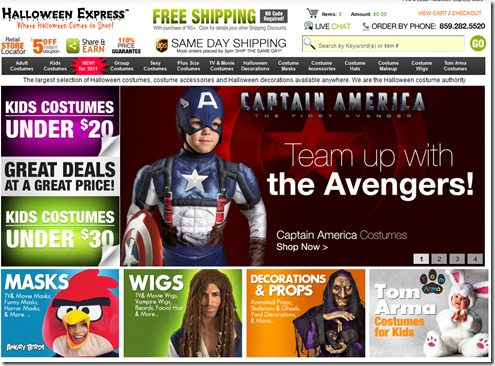 I browsed through their amazing selection for hours before I decided on a costume set.
We usually go for 'casual-dork' if there ever was a title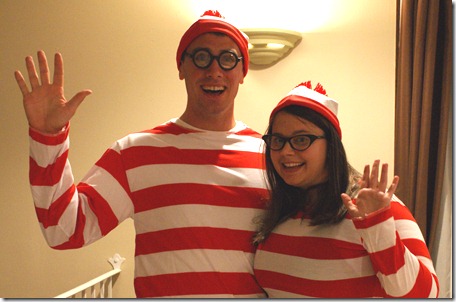 I came across the Where's Waldo and Wenda costumes, and though that would be perfect!  I mean, Waldo gets to wear jeans and so you just need the striped shirt!  Perfect for Joe! Wenda isn't trampy looking either, so its good for me!
Then Icing on the cake? I found some Chugginton Costumes for Andrew.  He loves Chuggington – and so I had him help me pick which trainee he wanted to be.. He chose Brewster!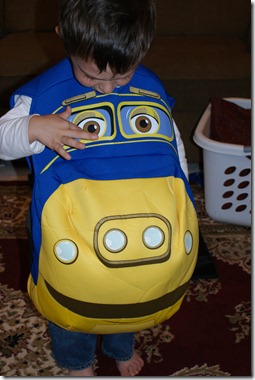 So when you're looking for a unique halloween costume or you just need to find everyone's costume on one site to save on shipping – check out Halloween Express. They have free shipping on orders over $65!
You can save 10% on your order (no minimums!) by using the code GRINNING or by clicking here it automatically applies the 10% off to your cart. This code is valid through 12/31/2011.