If you have a weak stomach…. skip down to the pictures for the happy news
Disgusting…
Micah's nursery has stunk (badly) for the past few weeks. We figured it was just his stinky baby poop, and added some air fresheners to the room. It seemed to get better so I forgot about it. Until today. I walked into his nursery and immediately pictured a horror movie with flies covering the walls. I'm exaggerating, but there were at least 20 ugly flies just sitting on his wall. Gross! Where'd they come from? And WHY that wall? So I investigated….
Behind my nursing chair….behind the giant bear…. behind the little stuffed puppy…..DROP THE PUPPY! YUCK! Flies and more flies and lots of little maggot poop-shaped flies-in-the-making, all in the puppy's fur! And under the puppy….fur……lots of grey fur. Using a plastic bag as a glove. I picked up a DEAD squirrel. Or was it a chipmunk? That's the thing….it was so decomposed I couldn't tell. And more flies.
So Peter pitched in and we threw out the poor stuffed puppy and a Wal-mart bag of fur and dead flies, sprayed the carpet with cleaner, and swatted a bunch of stupid little flies, some of which must have been baby flies and didn't even try to fly away. Most of which took two or three swats before they actually stopped coming back to life. GROSS!!! Then I vacuumed and plugged in a fresh air-freshener. It still stinks but it should get better now that the source is gone.
The next task: teach the cats not to bring their prizes inside. This isn't the first dead animal inside, it's just the first one that was hidden.
Phew…
I'm just thankful I saw all those flies and investigated. And that I'm working 4 hours today instead of my normal 12 hour shift like tomorrow. And that those flies were stupid and didn't fly all around the house. Ick. I'm not scared of bugs, but I still don't like the creepy crawly feeling when they surprise me.
Happiness!
On a brighter note, Micah has 2 teeth now! And he has basically figured out a bit of an army crawl. He gets on his hands and knees and then flops onto his tummy where he uses his elbows and kicks his little feet like crazy to scoot forward inch by inch.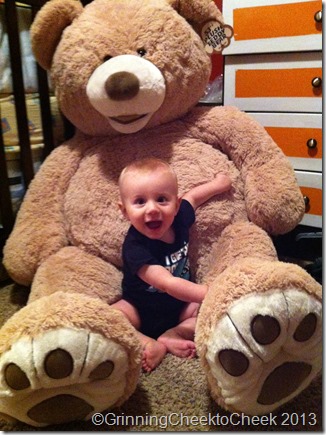 And we got to spend lots of time last week with Micah's Nana Nubs and cousin Molly. We went to the kid's play area at the Rochester Apache Mall and had tons of fun!