Doubling up the posts today because I didn't post yesterday!
I forget now who it was that told me to check out t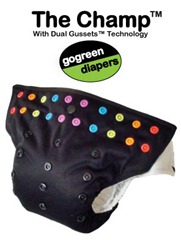 he GoGreen Pocket Diapers – But I'm thinking someone mentioned it to me before I contacted them.
Anyway, I went to their site, and saw their SUPER cute black diaper with all rainbow colored buttons along the waist – and I just about fell over. I *love* bright colors that stick out on a dark background. So adorable.
So of course, I had to get my hands on one of them.
Thank you to whoever mentioned these diapers to me

My Ratings:
See this post to find out more about my rating scale.


The GoGreen diaper is fairly easy to assemble. As soon as you find the insert (Which I often get mixed up with the insert for the Thirsties diapers – because there is no label on it, and it has a button.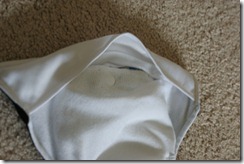 The insert goes in easily and then snaps in place.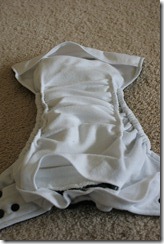 I love that there are inner gussets that help the insert lie flat.


This diaper fits both of my boys well.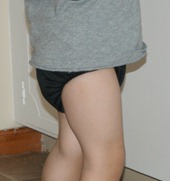 Its large enough to be sized for Andrew, and small enough to be sized for a small baby. I tend to keep it more for Andrew's use – because we have several smaller diapers that fit Ethan better.
It also has the option for overlapping the waist snaps, making the diaper that much more compact. This also allows for for the diaper to be stored away without a wet bag when dirty.


You do unfortunately have to get your hands a little wet when going to wash this diaper. Because the snap holds the insert in place – you have to reach your hand in there and un-snap it. It is located in the front, which is nice because then it won't let the insert fall down, however – that's where all the yucky wetness is.

There is a waterproof cover over this button area, so you should be able to lift that, and get minimal wetness to your hands.
The diaper dries easily, and can be used right out of the dryer, or by hanging for a very short period of time.


I'm pretty sure y'all got up top how much I think this diaper is so adorable! It's so nice to have a solid black diaper, but the a surprise of color inside! Love. It.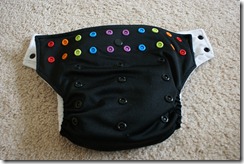 At a very affordable 15.99 per diaper, they're worth stocking up on. Especially considering that they're truly a One-Size diaper and the sizing ranges from super tiny to very large.



Like usual, being that there are so many snaps, Daddy feels like this diaper should have velcro.
HOWEVER. They have a new solution to this problem: They have an item called 'adapt a snap'. which is essentially velco strips that you snap onto the snaps, to turn your diaper into a hook and loop closure. Genius.
He also dislikes getting his hands wet to pull the insert off, and therefore waits for me to do it.
Otherwise, he has no complaints



I think the GoGreen Pocket Diaper is great overall – and I would enjoy having more of these in my stash. The inner gusset seems to help a lot as far as the fit goes, and the material is nice. Its soft, and it doesn't feel cheap.
Having heavy wetters, I wish that this diaper came with another insert or a doubler. Although you can purchase a bamboo soaker for this diaper for a very affordable $3.99. I'll be looking into getting some of these.
I'll probably be saying this on a lot of the diapers though – I want every diaper to come with a bamboo or hemp doubler

, because that's an option I need on every diaper! But – For the sake of all practicality, it's probably more economical for myself and others to buy a bunch of hemp doublers that just are a standardish size vs. forcing everyone to own these doublers

Who wants some rainbow buttons???
Giveaway!!
(Open to US Only)
One Lucky winner will receive a Go Green Pocket Diaper of Choice!
Visit Here for instructions on how to enter
This first entry is Mandatory: Visit www.gogreenpocketdiapers.com and tell me which diaper you would love to add to your stash!
Optional extra entries: (only after the above mandatory entry is completed!) All are worth one entry unless otherwise specified. Leave one comment per entry.
Subscribe to my blog via email (be sure to confirm!) – 2 entries
Like GrinningCheektoCheek on Facebook
Follow my blog publicly via GFC (lower right box)
Follow my blog via networked blogs (lower right box)
if you grabbed my Adventure to cloth Diapering Button before 8/22 and left a comment here telling me that you did so, add 2 entries
Follow @GoGreenDiapers on Twitter
Follow @GrinCheek2Cheek on Twitter and tweet about this giveaway. (up to 1x/day)
Rainbow Snaps? So cute! #Win a GoGreen Pocket Diaper @GrinCheek2Cheek Adventure to #ClothDiapers Event #giveaway http://www.grinningcheektocheek.com/gogreen-pocket-diapers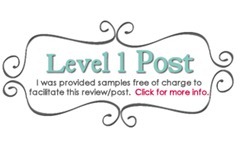 Giveaway ends September 16th, 2011 at 11:59pm. Winner will be drawn by 'andthewinneris…' and will be e-mailed. Winner will have 48 hours to respond or a new winner will be chosen.