I LOVE reading my kids books.  And they love books too, so I love that they love books.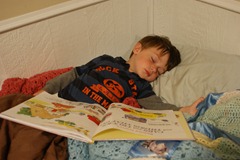 For nap time, we set Andrew on his bed with a pile of books and he often just reads to himself and then falls asleep shortly after.  At night time, we usually read several stories to him and then say goodnight.
Ethan is more into grabbing the books that we're reading than actually listening, watching, or reading them with us.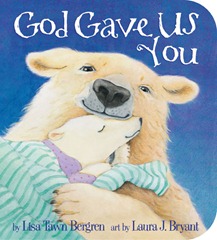 Lisa T. Bergren has a great series of books in her 'God Gave Us' Collection – which now has over 1.5 million books sold.  Her original title "God Gave Us You" is now the first in the series to be made as a sturdy board book – perfect for those little grabby hands!
Andrew loves the illustrations in the book and pointing out the mama bear and daddy bear and the baby bear.  Ethan – well… He just grabs for it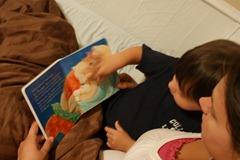 If you have grabby little hands like we do at home, this would be a great opportunity to get a great, solidly written book about how God works to bring babies into this world.
This book can be purchased on Amazon – God Gave Us You on Amazon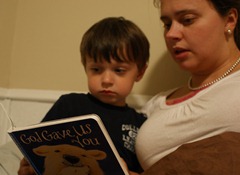 Check out the Lisa T. Bergren Series online here: http://waterbrookmultnomah.com/author-spotlight.php?authorid=75646
Giveaway!!!!
One Lucky winner will receive the board book,
'God Gave Us You' by Lisa T. Bergren
Click for Instructions for entry
This first entry is MANDATORY: Take a look at Lisa T. Bergren's Series online and tell me what other book(s) you might be interested in?
Optional Extra Entries: (only after mandatory entry is done!)
Subscribe to my blog via email
Like GrinningCheektoCheek on Facebook
Like Lisa T. Bergren on Facebook
Follow my blog publicly via GFC
Follow my blog via Networked Blogs
Post my Button on your blog. (two entries)
Blog about this giveaway, including a link directly to the giveaway (Five Entries)
Follow GrinCheek2Cheek on Twitter on twitter and tweet about this giveaway:  (this may be done twice daily, at least 2 hours apart)
Do your kids love books?  #Win God Gave Us You by Lisa T. Bergren @GrinCheek2Cheek #Giveaway #baby Ends 8/19  http://www.grinningcheektocheek.com/God-Gave-Us-You
NEW: Post my link on any of

that day's

CURRENT

Public Giveaway linky for this giveaway.  Should say something like – GC2C– God Gave Us You Book – Ends 8/19 *and the link*. Comment to me the link to where you submitted it. (i.e. for a Tuesday Giveaway Linky – post it anytime before midnight that same Tuesday) One entry per linky posted on.
Open to U.S. only.  Giveaway ends August 19th, 2011 at 11:59pm. Winner  will be drawn by 'andthewinneris…' the following day, and will be e-mailed. Winner will have 48 hours to respond or a new winner will be drawn