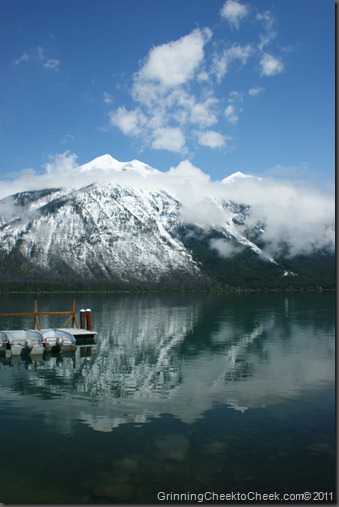 To start at the beginning of the story – see this post. When we arrived in Glacier National Park on the West End – we checked out the main hotel area – It was beautiful! This is the view from the main hotel's back yard.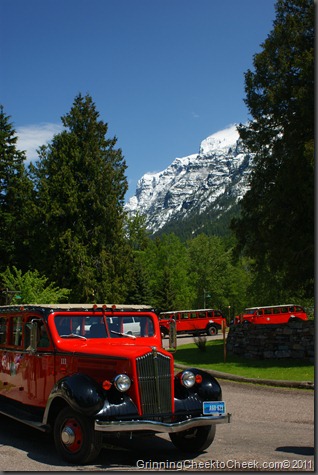 I love that they had all of the cars lined up.  They weren't in use because the roads were closed.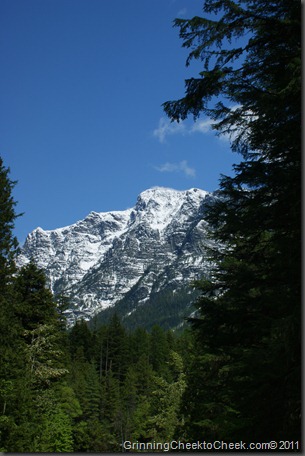 We took a walk right after we settled into the hotel. The roads were closed for driving; but we were able to walk up a ways, until all the snow started.  It sort of felt like a joke to me – or like, a conspiracy or something.  The temperatures were in the Mid 60's and as you can see it was beautiful and sunny – and there's not THAT much snow up there

They just didn't want us to see the rest of the place! Maybe Aliens or something… j/k
There were several trucks hauling asphalt away and other things as well.. They said that several portions of the road were wiped out due to avalanches, and that's why we couldn't get up there.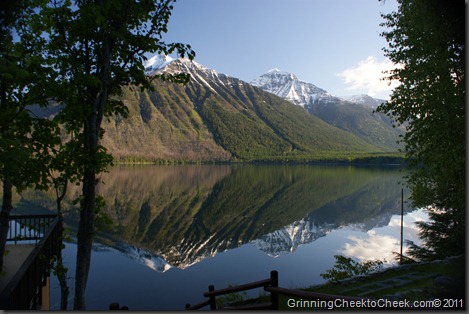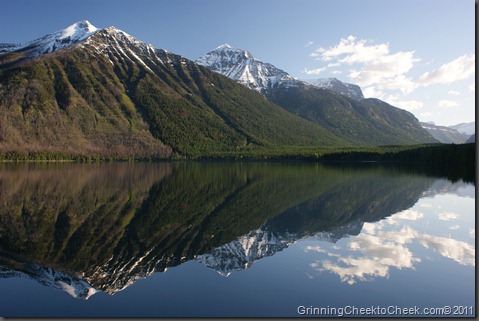 The next morning we got up, and went down by the lake near the hotel.  There were a few houses right along the water that were unoccupied; and just beyond the houses was this amazing view.  the water was just so still that you could hardly tell which way was up!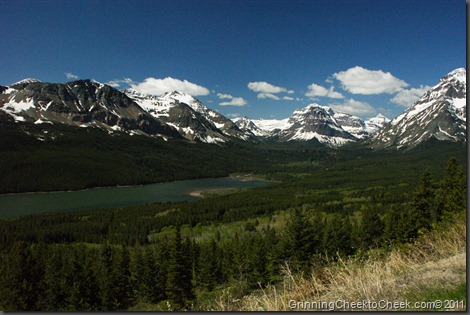 Our next reservations were for Waterton, Canada (which is basically the Canadian portion of Glacier Park).  Because the main road was closed though, we had to drive all the way around the outside of the park.  We saw some pretty amazing views from the perimeter of the park though, so it was worth it. Read about that here: Waterton Lakes National Park (aka the North/Canadian side of Glacier.