I was recently contacted by Pottery Barn Kids with the chance of reviewing my choice of either their really awesome Sherpa Sleeping Bags and matching Pillows or their Götz Doll Collection.
While both are totally tempting and how my Andrew would totally adore having a bear or moose sleeping bag and matching pillow – I decided to go with the dolls.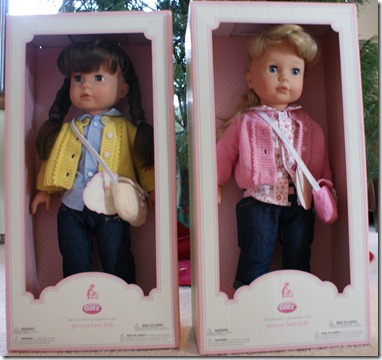 Why?
I've got two nieces. I'm sure I've mentioned that several times now.  They're 5 and 9.  And they love to play with their dolls.  It's really so cute how well they play together… Not totally without their fights… but what can you expect?
Also… because I have two boys – I tend to stick mostly to the boy reviews on this blog.  And I'm sure SOME of y'all have girls

So. Just a warning – I *really* didn't want to take these dolls out of the boxes, because they're a gift – so I did my best to review them while in the boxes.
These collectable-quality dolls have been made exclusively for us by Gotz, a doll manufacturer that traces its roots to the small village of Rödental in Bavaria, Germany. Since 1950, they've created dolls with superior quality and design and have been a favorite of doll lovers and collectors.
18″ high
Each of our dolls has long hair that can be washed, styled and brushed.
Faces have blushed cheeks, life-like eyelashes and eyes that close.
The dolls' arms and legs can be moved up and down.
Each doll comes with a blouse, sweater, jeans, shoes and purse (as shown).
Choose from Ashleigh Doll (blonde), Marianne Doll (brunette), Megan Doll (red hair) or Maya Doll (black hair).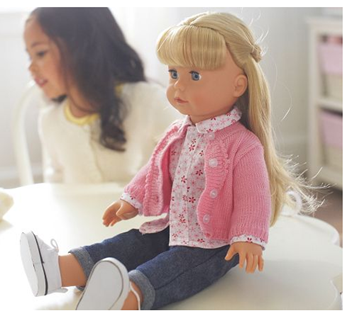 Their hair is nice and thick – looks so fun to play with! It's really sturdy too – I pulled hard on it from the roots and didn't get any pieces falling out.  You can wash it too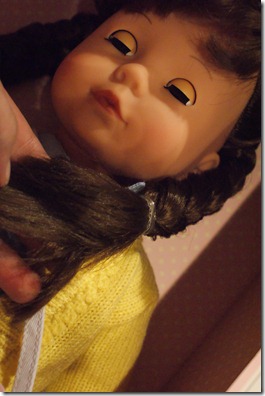 I'm sure this can be undone – but the clothes are joined together in a few areas by some thread. This is to keep the clothes laying nicely on them.  It'd be one simple snip of the string to unattach them from eachother.  Otherwise it's kinda nice that it won't move out of place!
I love the little description tag along with the dolls name too: *sorry it's kinda hard to read*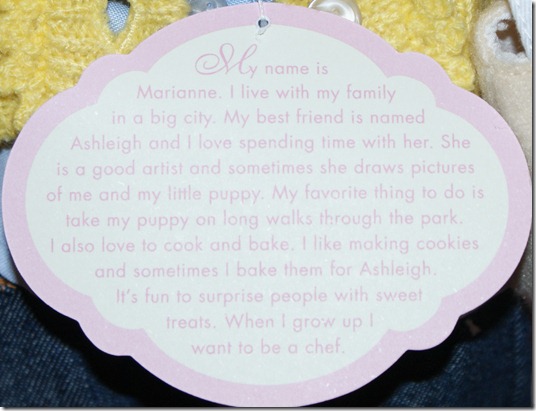 They also come with shoes – although there are much much cuter shoes from their collections online – Along with several other accessories that I am dying to get for my nieces!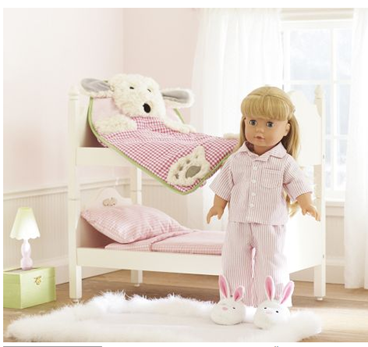 They look and feel high quality – not like some of the cheaper dolls I've seen at the discount stores. These dolls are made to last!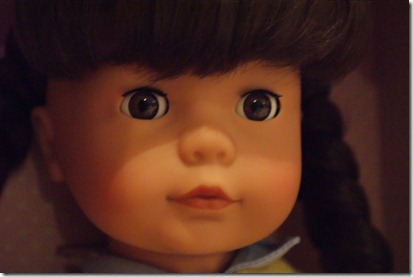 These dolls are sold exclusively through Pottery Barn Kids and in my honest opinion are so much cuter than some of the other dolls I've seen with their teeth showing…  Of course being a Dental Hygienist I would notice that.  I'm pretty sure that any other clothes and accessories that fit other 18" dolls would also fit the Götz dolls.