Sounds weird, Right?  Let me tell you about it.
It was so easy with Giani Granite Countertop paint. They give you everything you need in a convenient box, well labeled and with great written and DVD instructions.
Here is my kitchen before we painted: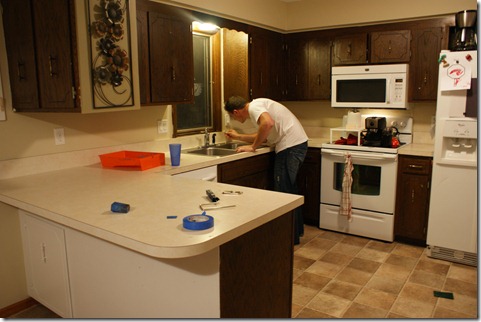 First thing we did was tape.  Tape is one of the few things that didn't come included in the box – but we had some on hand.
Then we painted the counters black.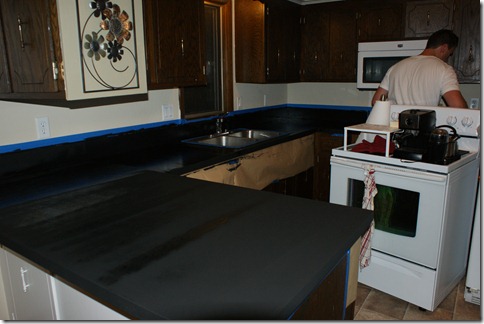 It was a little strange at this point, because we had to wait overnight before we could continue, and we knew the next day was going to be hectic – so we had to just leave our counters alone for two whole days – which was rough.
Here's where the cool part comes:
We sponged the colors in small sections.  Three colors that were labeled – with step 2, step 3, and step 4 (step 1 was black)  You sponge them on in that order – as much or as little of each color as you would like.  We wanted to get more of a 'cream' color vs. a black color – so we chose to cover most of the black.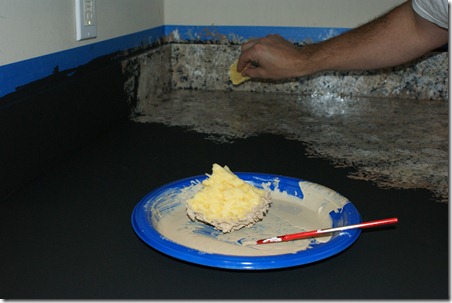 After all was said and done, the overall project took us about a week, just because we didn't work on it every day.  It was not possible to do the painting while the kids were awake, because we were afraid of their hands getting into the paint.
It took me about a total of 5 hours or so to do all the sponging and less than one hour for the black coat and top coats – so really, it would be a much faster process without kids around!
I love how they turned out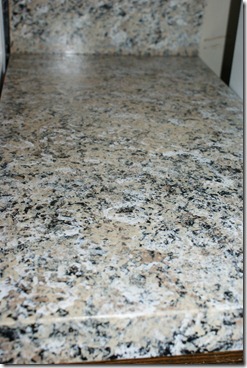 Now they look amazing! It really added a sparkle of life into my boring kitchen that is in desperate need of renovations.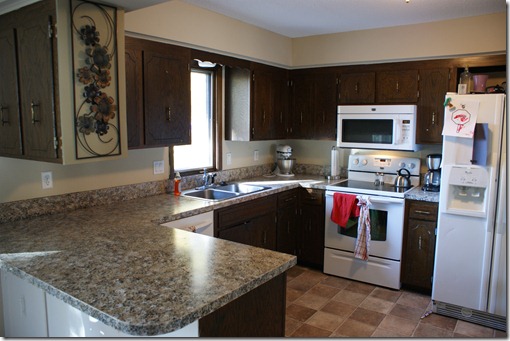 Before and After:
I would definitely recommend this product to anyone who needs a slight kitchen makeover, but doesn't have the budget for new countertops.  The Giani Granite Kit comes in several color choices – each of which can have varying degree's of that particular color – and it is so affordable at only $70!
Check out more great photos of countertops revived with Giani Granite at gianigranite.com, and on their facebook page!
Giani Granite can be purchased online at GianiGranite.com and for a very limited time they are selling Giani Granite Countertop Paint at Walmart – Get yours today!