I've written several times about my floor in my kitchen.  And I'm going to write several more times!
We moved into this house a little over a year ago – it was a foreclosed home, but the bank had obviously done a little fixing up before putting it on the market.  But they did as much as they could for as little money as they could.
The kitchen floor was "re-done" with a roll of linoleum.  Cheap linoleum at that!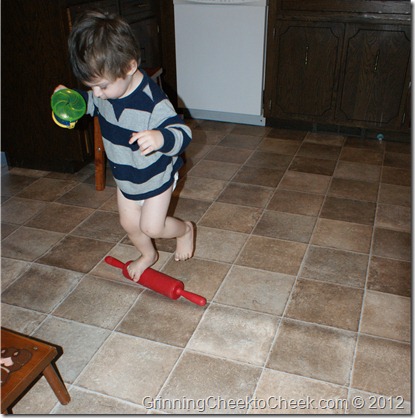 They also didn't do a very good job of installing it – because it's got lumps and bubbles in it all over.  It's terribly difficult to clean the linoleum too.
I've been dreaming of a new floor since before we bought this house – but it just wasn't in the budget or priorities – because the city wanted us to take care of a few other projects first (like the deck, and the garage door… which I will be updating about soon).
But now that we got our tax rebate back, We've decided to allocate a portion of that money to a new floor!!!
We ordered the wood laminate floor today –
I'm SO excited!