My kids have been watching the commercials and getting extra excited for the new Monsters movie – Monsters University.  Andrew, my 4yo has been *Begging* me for a Monsters Inc. Movie night to gear up for the movie, because he want's to remember the first movie before he sees the second one.  So we decided to make a party out of it – with the help of Juicy Juice, and some Monsters University toys and branded items that we found at our local Walmart.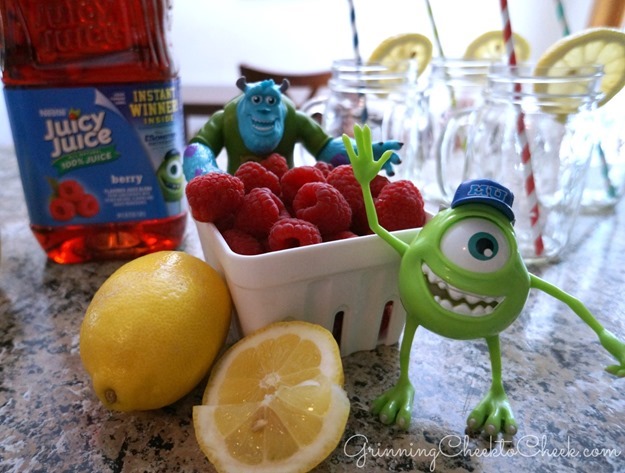 Firstly we went shopping – you can see more about our shopping trip by clicking here to my Google plus album of our trip through the store.  Then, we got everything home, and started putting it all together.
I wanted dinner to be simple, but fun and delicious. My kids love Juicy Juice drinks – so I knew that it would be quite the treat to enjoy with their meal. I decided to take it a step further though – to make the Juice into a Lemonade!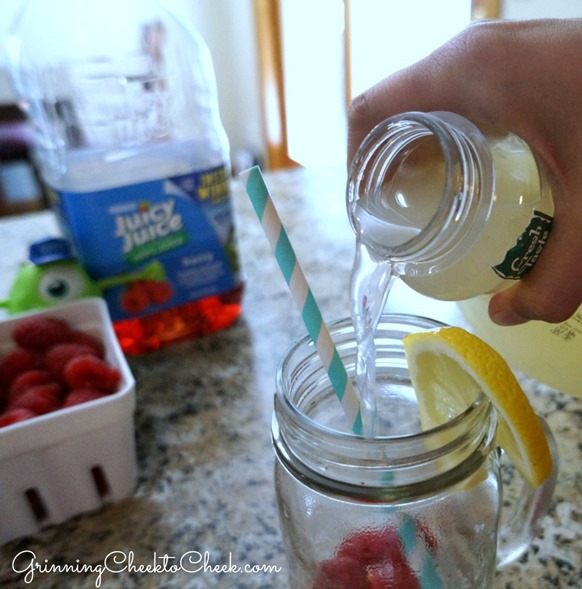 Raspberry Lemonade with Juicy Juice:
Ingredients:
* Juicy Juice 100% Juice – Berry Flavor
* Simply Lemonade
* Lemons
* Fresh Raspberries.  I stuck mine in the freezer for a few hours prior.  If I could have found my ice tray, I would have made raspberry ice!
Instructions:
Pour Simply Lemonade and Berry Juicy Juice into Pitcher (or glass). Add frozen Raspberries and Ice. I used about a 50/50 mix.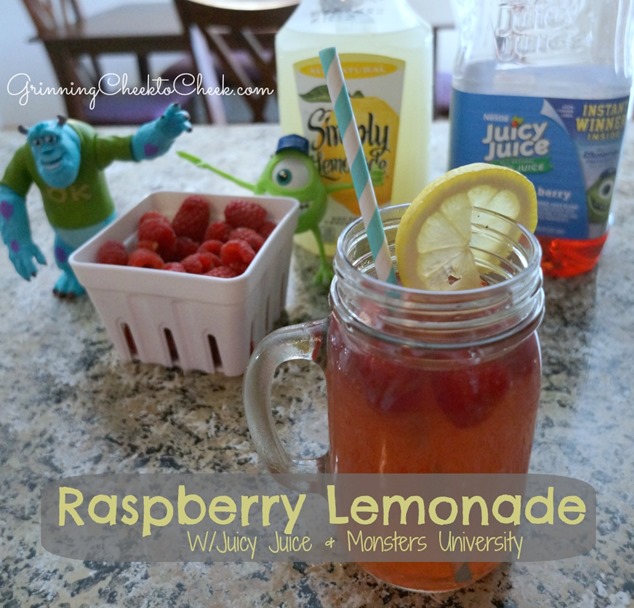 _____________________________________________________________________________
I also made the lemonade by hand (by juicing 2 lemons, adding 1/4 cup of sugar and 2 cups water), which I thought would maybe bring a little sweeter taste to the mix, but a side-by-side test comparison – they were almost exactly the same.  So to be less-messy and time-efficient with the kiddo's, I chose the Simply Lemonade as my preferred method.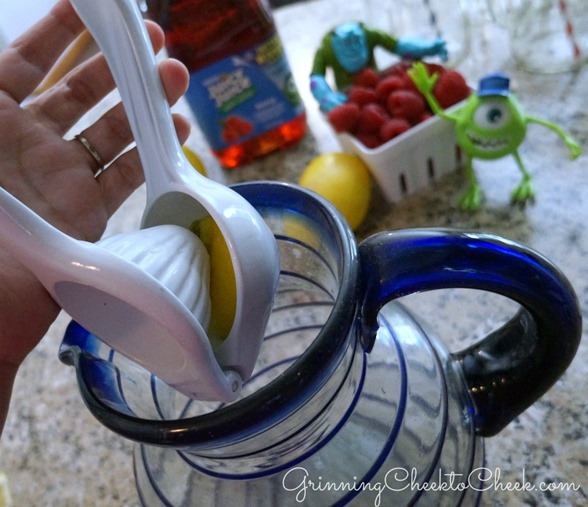 ***I also think that this lemonade would be perfect with a little added sprite, ginger-ale, or other bubbly soda to give it that sparkling flavor. My kids don't appreciate bubbles in their drinks though, so we didn't take that route.
______________________________________________________________________________
We set up our festive dinner on the counter to prepare for our movie.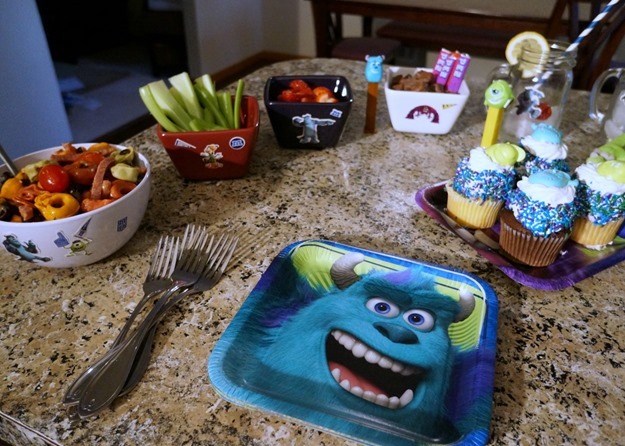 I bought some really fun Monsters University paper plates, stickers, and plush-dolls of the characters to use as decoration, Monsters University Cupcakes for desert, and Monsters University PEZ dispensers, Juicy Juice Juice boxes and Fruit Snacks for snacks during the movie.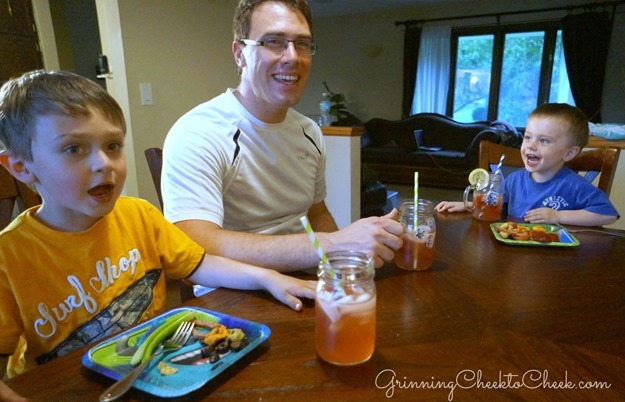 Dinner was fun and delicious – and the boys were really excited to get to the movie!
We all cuddled up in bed with our plushy toys and watched Monsters, Inc. on our TV.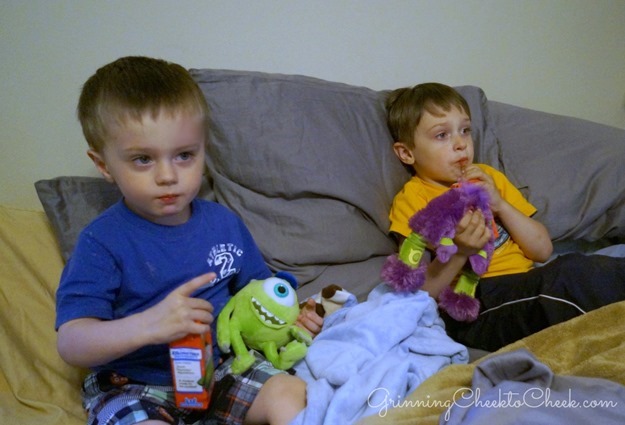 A few nights later – we had a screening for the new Monsters University movie in 3D! The boys were super excited, especially having just celebrated it. It really picked up the excitement for the movie.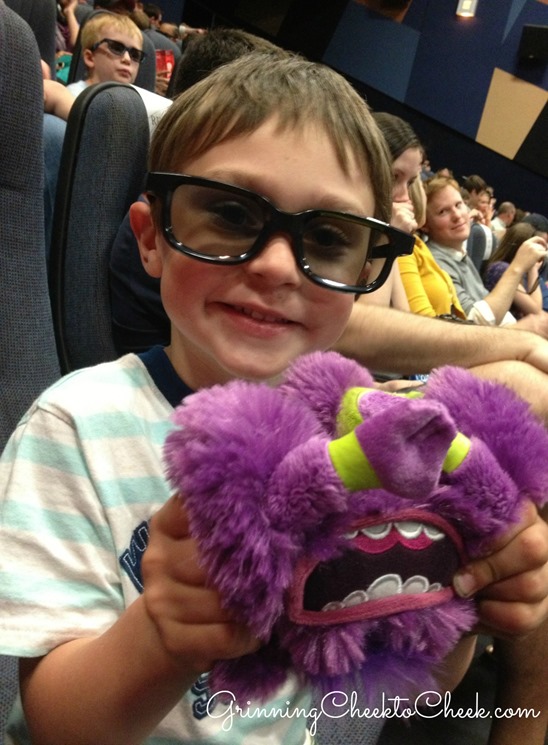 Andrew (my 4yo) definitely found some areas of the movie too scary to watch (but he is *in* the movie when he's watching and scares easily) so he had to look away a few times telling us he wanted to go home… Ethan (my 2yo) on the other hand, loved every second of it and wasn't scared at all. After the movie was over, they were both so excited to see it again!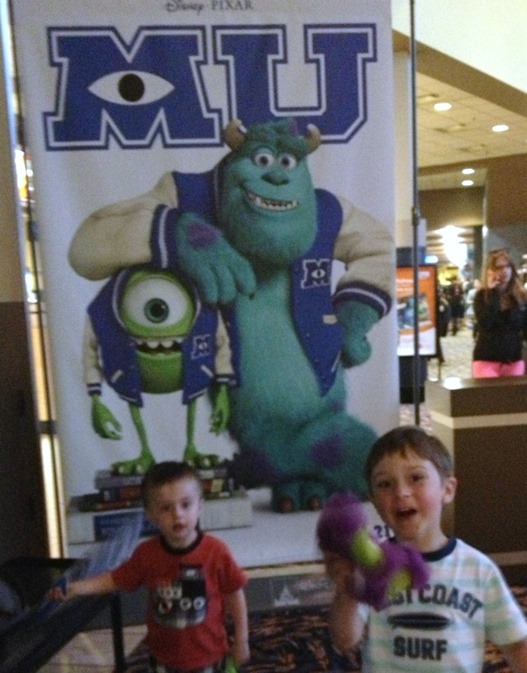 Each Juicy Juice package that we purchased has a product code that can be redeemed on the Juicy Juice website for a fun prize, like a phone call from a Monsters University Student – and an entry to the Juicy Juice Monster-Sized Sweepstakes to win a family trip to Pixar Studios and a $5000 scholarship.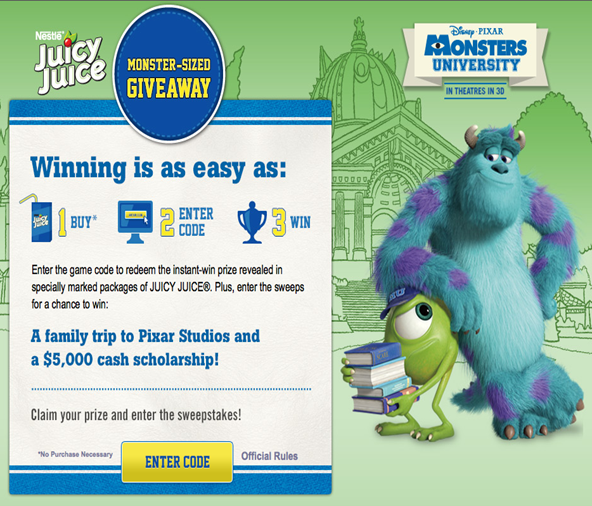 Are your kids excited about Monsters University?  Who's your favorite character?
I am a member of the Collective Bias® Social Fabric® Community.  This shop has been compensated as part of a social shopper insights study for Collective Bias®.  All photos and opinions are my own.  #cbias #SocialFabric