FuzziBunz to me seems like the most well known brand of cloth diapers. They have done a great job building a company who has become one of the main images of today's cloth diapers.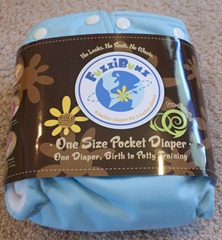 Before I really thought much about cloth diapering, I knew that FuzziBunz was one of the big names out there. and while looking through forums I saw the people referring and understanding the abbreviations of FB for FuzziBunz.
So of course, I had to try them.
I was given a one size FuzziBunz diaper from both Wee Little Changes as well as Sweet Cheeks Diaper Company, but then given a Perfect Size Diaper from FuzziBunz directly.
My Ratings:
See this post to find out more about my rating scale.


All of the FuzziBunz diapers seem to come with different sized inserts – none of which are labeled. I find this rather frustrating to be totally honest.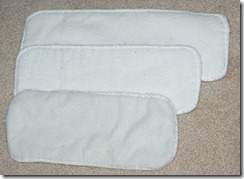 The One Size diaper comes with two inserts – a large and a small one; and the Perfect Size comes with one insert – which is the perfect size for the diaper. So when you have a pile full of inserts and covers, you have to line them all up to figure out which one belongs where. Which means this diaper will only make it on a baby's butt if I did the folding of the laundry, and didn't just leave them in a pile – because my DH is not going to lay them out to figure out which one belongs where compared to a diaper that he can spot the two pieces.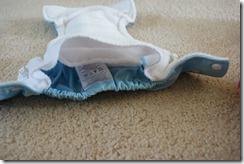 The pocket is nice and large, and can be stuffed easily.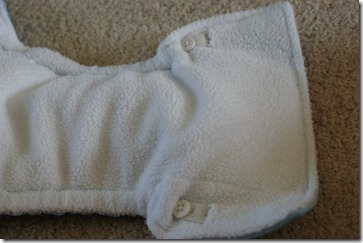 The One Size diaper has a nice elastic adjustment – but having two boys in diapers – I have set the diaper to fit only Ethan. If I was to change this up – I'd be having to adjust elastic every time I put the diaper on a different child.


Once you get the diaper adjusted to the correct size (For the One Size Diaper) this diaper fits great! Otherwise, it can be kind of a rough thing to figure out exactly where is best for your baby.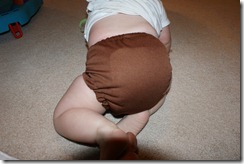 The Perfect Size diaper fit Ethan great! No adjustments needed – just simply put it on. It was a little on the larger side still – but he's got plenty of room to grow into it then.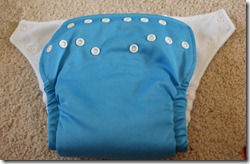 For the One Size diaper, Ethan seems to be right in the middle of the two lengths of inserts. The long insert is too long, and therefore needs to be folded – and the small insert is too small and might leave us with a mess. Doubling them up leads to bulkiness, which I don't appreciate so much.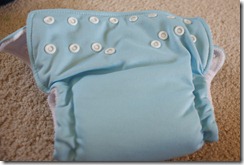 They Both seem to be really comfortable.


This diaper washes pretty easily. I like that the pocket opening is in the back – so When I pull the diaper out I don't have to get my fingers all wet with pee! The inserts are microfiber and therefore dry very easily.


I love the color options of these diapers. They really are some of the cutest diapers out there. I am just a sucker for a rainbow of solid colors though. I'm not terribly attracted to most prints or patterns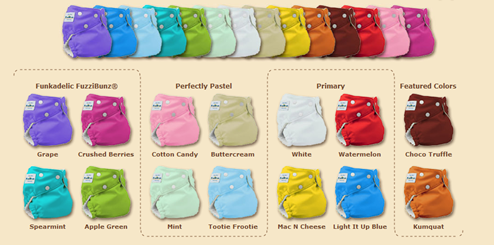 For a One Size Diaper at 19.95, which includes an extra set of elastics – I think you're getting a great deal. You can easily get an entire stash of these diapers and have them for the life of your child(ren) and barely cover what you'd actually spend on disposables during the first year.
At $17.95 for the Perfect Size diaper – (I won't get into the sized thing again… You can read some previous posts to see how I feel about pricing for sized diapers!) It's really not all that bad. Still better than disposables – but you're going to need some extras.


Dad actually finds these angled snaps a little easier to deal with. But – still not as good as his velcro diapers. The big problem for Dad is finding this diaper when it's not folded (which, when in a hurry – I just stick the insert in the diaper and fold it in half – then Dad or whoever can stuff the diaper) When there's no label – he's not sure which diaper it belongs to, and therefore just ignores the insert and the diaper all together and goes for another diaper that is more clearly labeled.


Unfortunately I got a bad taste for these diapers right off the bat. I was most trusting of them (and was unaware of correct sizing, overall fit, and the fact that they are just not meant to be an overnight diaper) I put this diaper on Andrew for our first overnight with me being home – and really had a mess in the morning.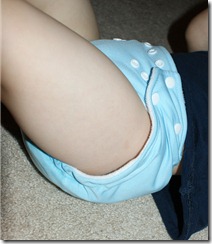 This was just the leak from the 2-3 minutes that he was in my bed while I was getting out of bed. His bed – was MUCH more soaked.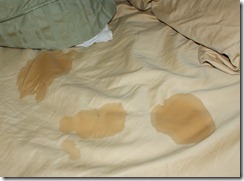 Now that we know how to properly adjust the diaper to fit better, we do not have these leaks anymore – but we also do not put them in these diapers overnight. But – a normal daytime wearing is just fine.
I do love the sizing options of the One Size diaper (assuming that you're using it correctly – and on one child at a time) and I love the clean look it gives without having the rise snaps all across the front.
I also prefer the Perfect Size diaper over the One Size diaper mostly due to bulk, but also because I tend to think that the insert fits better than the One Size. But they're both really fine, it just depends on the size of your baby at the moment! I'm sure if I changed it to Andrews size – the longer insert would be perfect.
One thing that I have to say is, that I would *LOVE* to try their Hemp Diaper. I think this might solve over half of my insecurities of this diaper – just due to the soak factor. Had I known how challenging this diapering process really was and how leaks happen so frequently before I stared diapering, I would have requested the Hemp to review.