We're having a twitter party and you're invited!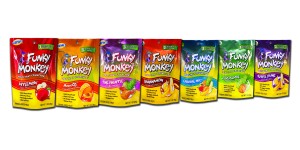 The twitter chat is taking place on Tuesday August 7th at 4 pm EST. We're going to be talking about back to school time with a focus on healthy options.  Want to learn more?  You're invited!  Come chat with Grinning Cheek to Cheek and Funky Monkey Snacks by using the hashtag  #funkychat. Questions can be asked to the hashtag and to your hosts, @GrinCheek2Cheek and @funkymonkeysnck.
A little bit about Funky Monkey Snacks:
Founded in 2006 with the mission of nourishing healthy lifestyles by providing delicious, nutritious, convenient, quality snacks, Funky Monkey® Snacks are simply real fruit snacks, made using a proprietary freeze-drying process that creates Fruit That Crunches!® while retaining nearly all of fruit's natural goodness.   Funky Monkey Snacks' larger one-ounce bags contain three of the four daily recommended servings of fruit.
Funky Monkey Snacks are gluten-free, wheat-free, dairy-free, peanut and tree nut free, and contain no added sugars, colors, flavors or preservatives. They are Non-GMO Project verified, vegan, raw and certified Kosher.They are produced in Brazil, near where the fruit is grown to ensure that all of the premium-quality ingredients are harvested and freeze-dried at the peak of freshness.
What would a twitter party be without some prizes for you, the readers?  Update: Come to the twitter party #FunkyChat for the chance to win Amazon Gift Cards!
Want to learn more before the party?  Check Funky Monkey Snacks out at www.FunkyMonkeySnacks.com.