Peppa Pig Jumbo Mega Playmat with Vehicle Review
Kids of a young age love waking up in the morning to tune into their favorite television shows. One of Jamison's favorites happens to be Peppa Pig! A popular show that kids all over love! So if your child is a Peppa Pig fanatic like mine, then why nоt get them a toy they are sure to love. They will love the Peppa Pig Jumbo Mega Playmat and vehicle made by TCG Toys.
Cruise Around Town with Peppa Pig!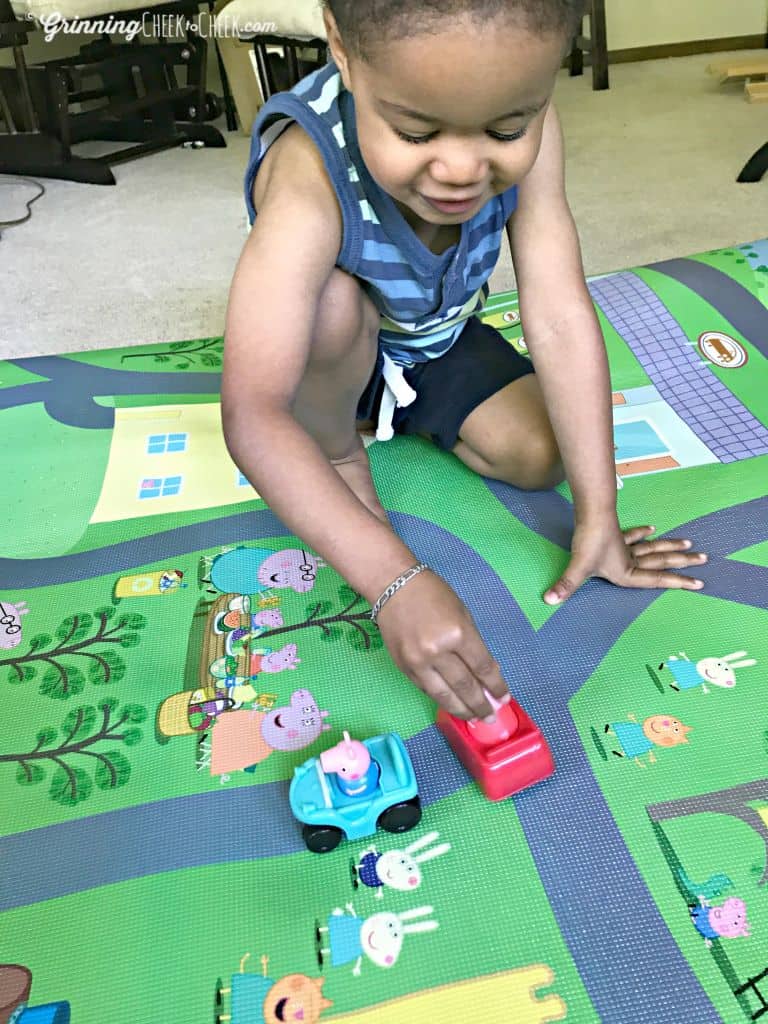 Jamison enjoyed zooming through the town bringing the world of Peppa Pig to life in his room with the 150cm x 120cm playmat, and includes 2 x Peppa Pig vehicles! Styles and colors may vary. Thіѕ super durable mat is easy to clean and rolls away for easy storage – perfect for playrooms, bedrooms and more! For ages 3 years and older. Peppa pig comes equipped with their own vehicles, making it easy to enjoy every one of the full-color play scenes. Have a seat right on the mat as you ride around town with your pig pals. The durable, over sized foam mat creates a soft surface fоr hours of playtime. Are you all done simply wipe the mat clean, so it's ready for tomorrow's adventures.
The full-color mat іs loaded with continuous play scenes, so you can join Peppa Pig and her little brother, George, as they explore the neighborhood. The mat is comfortable to sit and lie on while you travel around town with Peppa and George.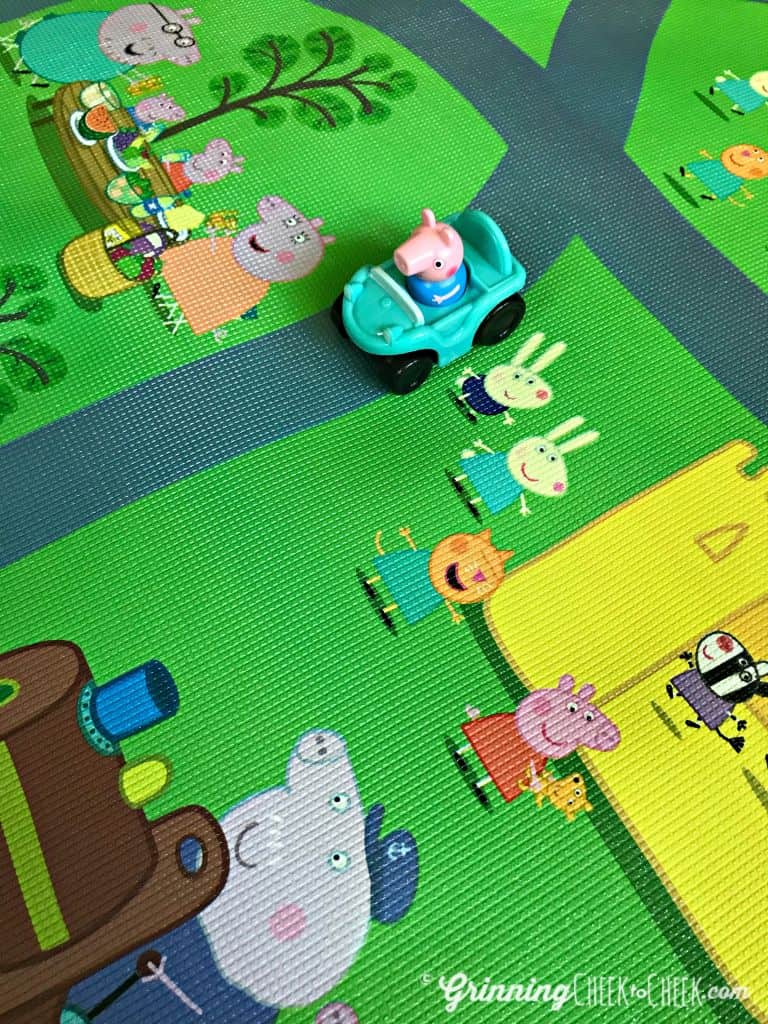 The Peppa Pig Jumbo Mega Mat, has been endless fun for our son laughing and snorting with Peppa Pig and her little brother George as he pretends to ride them around the town! The mat is brightly colored and printed on over 5 feet of Eva foam.
Product Highlights
Explore the neighborhood with Peppa Pig in vehicle, George, with the continuous play ѕсеnеѕ on this full-color mat
Durable, oversize foam mat gives you a soft, comfortable surface to playwіth your pig pals
Two character vehicles make it easy to cruise around town with a friend
Wipe the mat clean for simple maintenance
Recommended for ages 3 years and older
So what did Jamison think?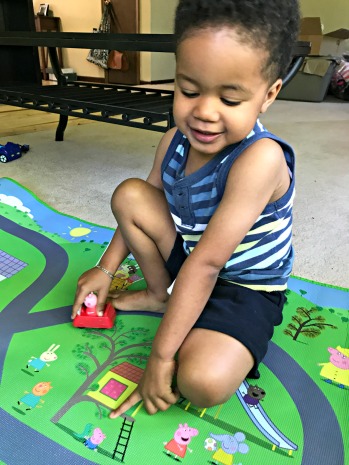 He loves cars! Anything with wheels for that matter. He also loves Peppa Pig. After only a short time of playing with his new Peppa Pig mat we decided to leave it in his room rolled out. We found ourselves constantly pulling out the "Peppa Pig Town." That's what he calls it. This is seriously a hit for the Peppa Pig fanatics of the world. For more information on the Peppa Pig Jumbo Mega Playmat checkout it out here.
Looking for more Peppa Pig fun? Checkout the Peppa Pig Magnetic Wood Dress Up Box. Also made by TCG Toys. Which includes over 21 mix and match dress up pieces. Let your little one style Peppa Pig for a day of fun. Stay tuned for Jamison's thoughts on the Peppa Pig Magnetic Wood Dress Up Box.
I received free products in exchange for a review. Opinions are 100% my own and not influenced by compensation.