What's your favorite recipe? How about your favorite baby food? Why can't they be the same?
Infantino Fresh Squeezed Baby Food System
With the Infantino Fresh Squeezed baby food system, it's easy to make any recipe into portable, delicious baby food! Affordably! Whether you are already making baby food at home, or buying it from the store, Infantino has taken it to the next step with this system, which allows anyone to make baby food pouches right at home, quickly and affordably!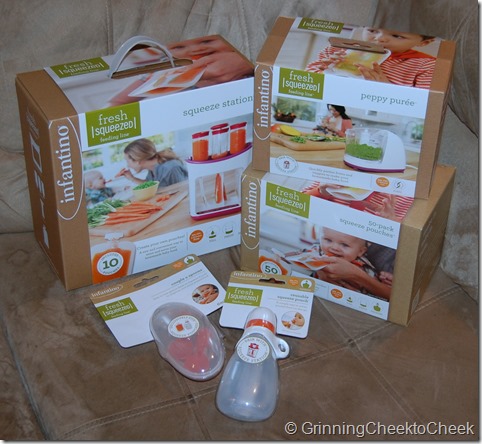 The Fresh Squeezed baby food system is fantastic! Baby food pouches are becoming increasingly popular as they are transportable, convenient and easy, but they can be expensive! At cheapest (unless you have incredible coupons) they are about $1 apiece, and if you want name-brand or organic pouches, it just goes up from there. And who knows what all those preservatives and additives are?!?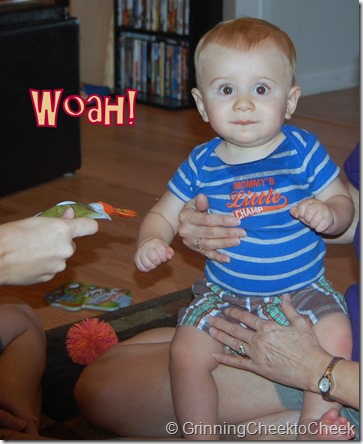 I love that I can make baby food at home, but up until now it's been impossible to put homemade food into pouches. With the Infantino Fresh Squeezed baby food system, I can make whatever baby foods I desire and put them into pouches, which have been incredibly handy with all our recent travels. The pouches are easier to bring on trips and easier for Micah to just suck out the food when we don't have the space or time for bowls and spoons.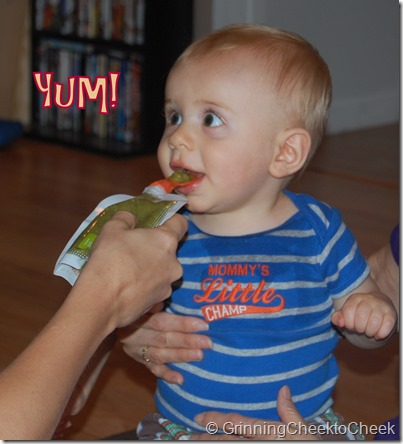 Infantino Couple-a-Spoons are an Awesome Idea!
Plus I have the Couple-a-spoons so I can easily attach a spoon to the end of the pouch to be able to spoon-feed him straight from the pouch, no mess! I don't want Micah to think he should always be able to suck food from a pouch, I want him to get used to eating off a spoon as "normal," so I love this ability to spoon-feed from a pouch when a bowl just isn't an option. And the spoons come in a great little plastic carrying case that can attach to my diaper bag easily.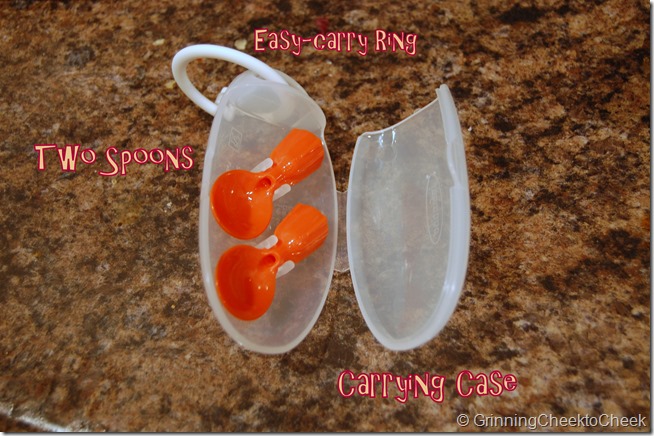 Infantino Peppy Puree
Along with the Infantino Fresh Squeezed baby food line is a little food processor the Peppy Puree. A cute little food processor with an easy to push button to operate at one speed. It works well for small amounts of soft foods, but I tried to puree cooked rice with it and it barely touched the grains. It is also really loud so I was worried it would wake Micah if I tried to use it after bedtime. I switched back to using my normal food processor, which can hold a lot more food and is quieter. The Infantino Peppy Puree is easier to store and transport due to it's small size, but I prefer my bigger food processor.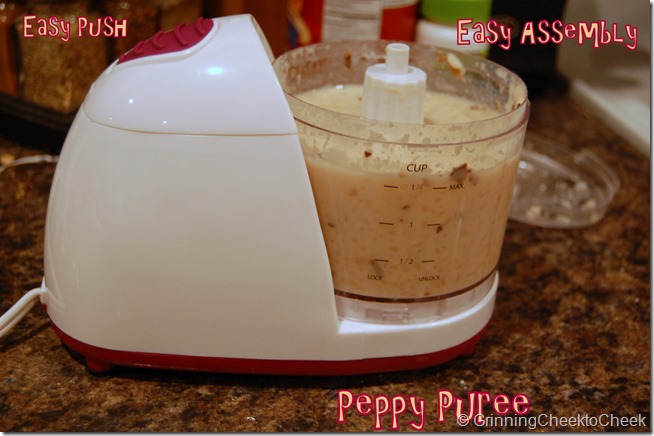 Infantino Squeeze Station
This is the core of the Fresh Squeezed system. This is where all the magic happens and food becomes pouches. Okay, fine, there isn't any magic involved, but it's awesome anyhow. Just slide in a pouch, twist on the tube, put in whatever prepared food or combinations of foods your little one's heart desires, and push it in. Viola! Untwist the tube and slide out the pouch. Cap to refrigerate for up to 2 days or freeze for up to 2 months.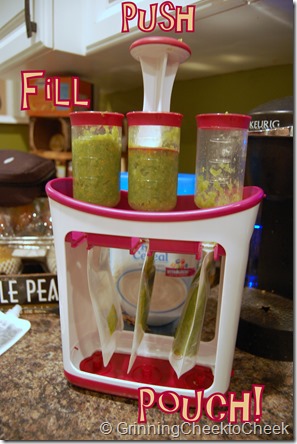 It is truly easy. And with three stations, it's easy to fill pouches quickly and efficiently. I did notice that after pushing the food down, you can't just pull the pusher straight up and out or the suction pulls some food back out. You either have to wiggle it out, or leave it in while you untwist that tube, then pull it out and move on. Either way, after getting in the rhythm, it's quick and easy.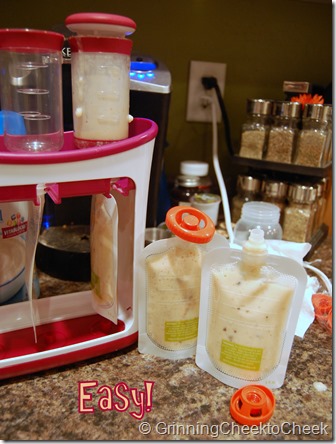 It can also be difficult to get the food into the tubes, I spilled it all over a few times. It's definitely easier with a spoon, funnel, or something with a spout. Infantino sells a funnel, so problem solved!
The tubes have lines on them so you know how far to fill it and can combine 1, 2, 3+ ingredients in one pouch right there!
And when you are all done, just rinse, wash, and tuck the tubes inside to store away. I love it! This thing is fantastic! I still make ice cube food as well, so Micah can eat from a bowl while at home, but I have a stash of pouches in the freezer for easy grab-and-go greatness.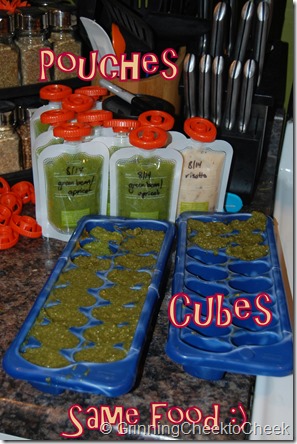 Micah loves the Infantino Fresh Squeeze baby food System!
We took food with us to visit grandparents, to go to Kansas, and when we plan out being out and about for a while. It's easy to just grab one out when he is hungry and he can suck it down. Yum! It was really handy on the trip to Kansas so I could give him food while on the road, with appropriate adult supervision of course.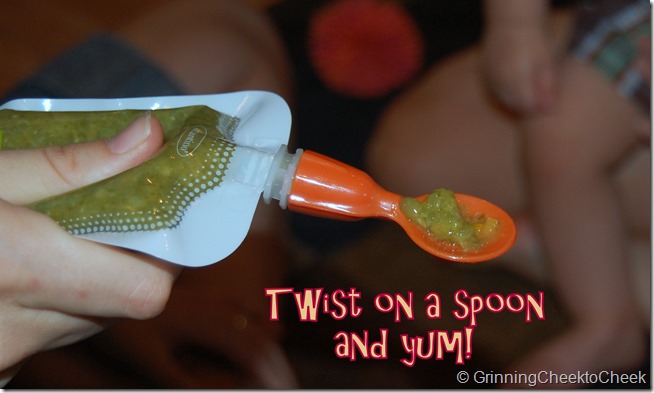 Good to Know About Infantino Fresh Squeezed Baby Food Making Products
The entire product line is dishwasher safe and BPA, PVC and phthalate free! Yay!
The pouches shouldn't be microwaved. If you want to heat baby's food, drop the pouch in some warm water for a while, just like warming a bottle.
The pouches are easy to label with a permanent marker so you know what fantastic creation is stored inside, and when you made it. We made Peach Oatmeal, Spinach Peach (Speach!), Green Bean Apricot, Truffle Risotto, and Raspberry Rice.
Each pouch is one-time-use, or Infantino makes a Keeper Squeeze Pouch that can easily be washed and reused!
It's Affordable: I calculated that each pouch of food is less than 50 cents, depending on what food you fill it with. Way better than the $1-2 per pouch in the store!
Visit http://www.infantino.com for more information. Or check them out on Facebook or Twitter!
The innovative new Fresh Squeezed feeding line is available in stores and online at Babies "R" Us and Target, as well as Step2.com and Amazon.com.
Win an Infantino Fresh Squeezed System for Your Family! Over a $70 value!
How to Enter:
Mandatory Entry: Leave a comment about your favorite baby food recipe.
Then: Fill out the Rafflecopter form.
Be sure to come back each day for extra entries!!
Rules: You do not have to be a blogger to enter/win. An email address is required to enter. The winner will be chosen randomly through Rafflecopter and contacted via the email registered in Rafflecopter. A reply to the winning email is required within 48 hours before a new winner is chosen. One person entering per household please. US or Canada only please.
This giveaway ends at 11:59 PM EST on September 14th, 2013
Package includes:
Squeeze Station – 3 Pouch Press unit with (10) starter Squeeze Pouches – $24.99
50-pack Squeeze Pouches – Plenty of pouches for mom to store her own baby food – $16.99
Keeper Squeeze Pouch – Offers an additional way to fill-and-go in an easy-to-clean, soft silicone container – $7.99
Peppy Puree – Quickly blends soft fruits and steamed veggies – $19.99
Couple a Spoons™ – Spoons that attach easily to Squeeze Pouches for mess-free feeding – $3.99