I recently shared about my husband's favorite dipping sauce for fondue: The Green Goddess; and now I'm going to share my favorite: Curry.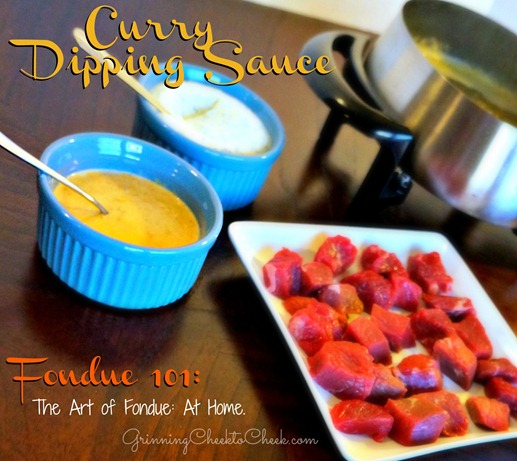 Mmmmm… Just the word Curry makes my mouth happy with this sauce.
Now – don't get me wrong: I so, unfortunately, found out during a trip to Big Bowl Restaurant that I am in fact – NOT – a fan of curry in pasta dishes. But I do like it a lot in this fondue dipping sauce.
When at the melting pot, I ask for two large sides of this sauce – they can keep the rest of them (Well, except for the gorgonzola sauce which I haven't mastered at home… yet.)
The ingredients are a little more expensive with this sauce, but believe me: you cannot have home fondue without this sauce!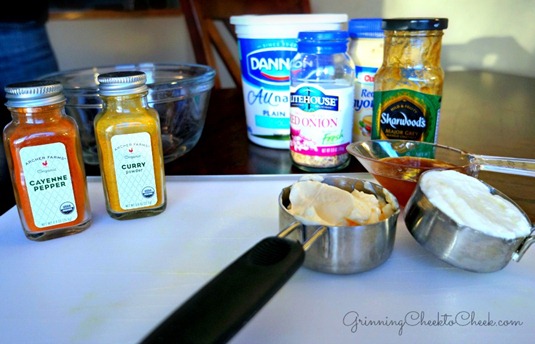 Curry Dipping Sauce Recipe:
1/2 C. Plain Yogurt (Check here for what to do with the remainder of this yogurt when you have toddlers!)
1/2 C. Mayonnaise
1/2 C. Major Grey's Mango Chutney (often times near the marinades at the store)
2 tsp. Red Onion – finely chopped (I use freeze dried)
2 tsp. Curry Powder
1 tsp. fresh Lime Juice
1/4 tsp. Cayenne Pepper to taste
Mix all of the ingredients together with a blender or food processor until the desired consistency is reached. I like mine really creamy. Refrigerate for a few hours for best results – however I've made it last minute and it turns out great.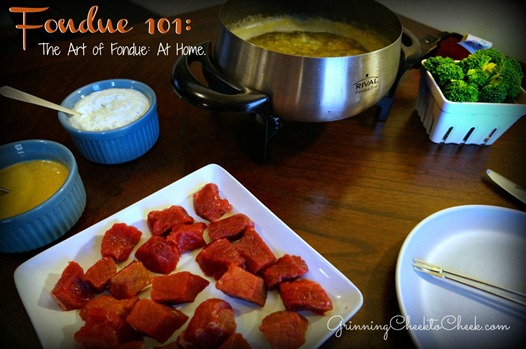 Follow along with the entire fondue 101 series for more great recipes!