Believe it or not: my favorite course of a 3 course fondue is the main course. While I do love the cheese and the chocolate: something about ultimately juicy tender steak dipped into my favorite sauces and the perfection of broccoli cooked in vegetable broth… it just makes my mouth water thinking about it! Check out our fondue recipe.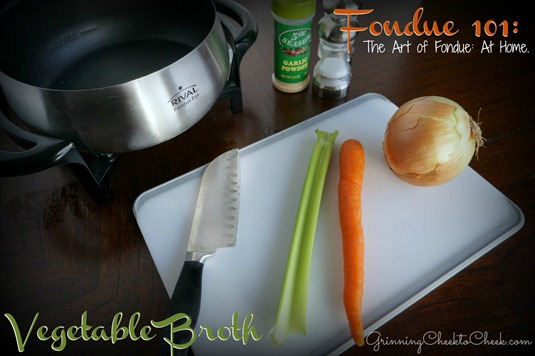 Every time I've ever gone to the Melting Pot – they've recommended the 'other' Cooking Styles that are an upcharge. I see why – but I've never liked the tastes of them like I've liked the court bullion cooking style!
The broth is surprisingly easy to make, too.
Fondue Vegetable Broth Recipe:
(aka. 'Court Bullion')
2-3 Tbsp. small yellow onion – finely chopped
1/2 Carrot – Finely chopped
1/2 Celery Stalk – Finely chopped
2 Tbsp. Kosher Salt (Start with 1 Tbsp and add more as needed, to taste)
1 Tbsp. Pepper (Start with 1/2 Tbsp and add more as needed, to taste).
2 tsp. Garlic Powder (or 2 cloves garlic finely chopped)
Water to fill pan
**SEE UPDATE BELOW**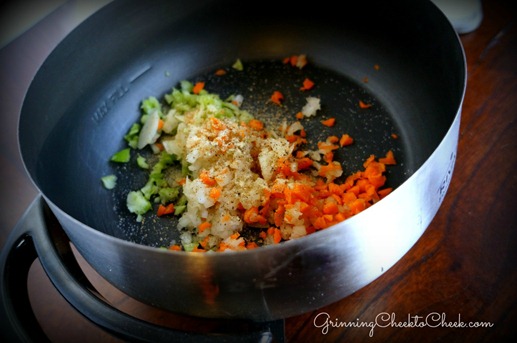 Typically I put the ingredients in a pan on the stove, heating to a rapid boil, and then reducing to simmer. This can simmer on the stove for some time: be sure to check the taste as you add more water, and add extra seasonings as needed.
If you start the broth on the stove, be sure to add plenty of water and let it simmer down for some time. Add salt as needed but don't start with the full amount. This recipe usually makes enough broth for the fondue pot to be filled more than once – so don't overdue the seasonings vs. water.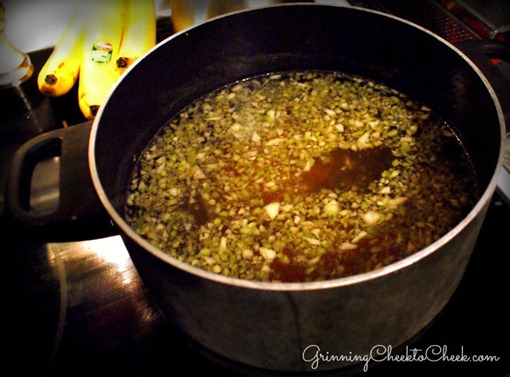 The ingredients in the below picture were not cut very finely. I typically cut them up a bit more to look like the above photo, or strain them into the fondue pot so they do not get tangled into my broccoli!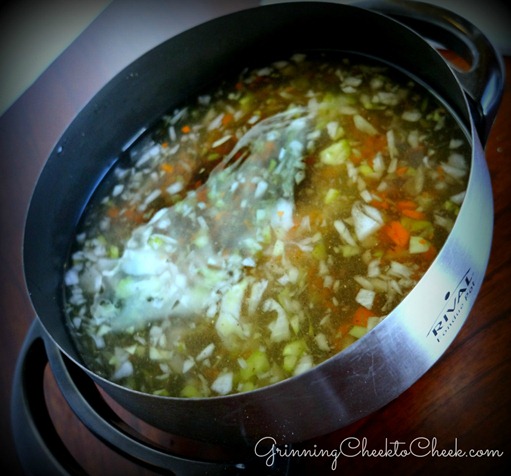 This broth is perfect for cooking potatoes, broccoli, mushrooms, and all types of meats! I'm pretty boring and use only broccoli and steak when it's just my family. But when I'm cooking for a group, I purchase a variety.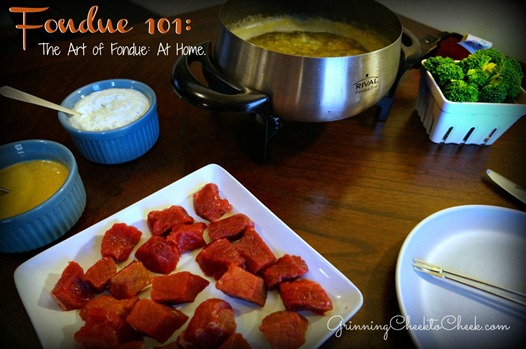 Follow along with the entire fondue 101 series for more great recipes!
**UPDATED: I typically make this ahead of time in a stock pot, throwing in a single piece of broccoli to cook & taste to be sure that I have enough salt/pepper. If it's too much salt/pepper I add more carrot & celery. It's just easier to control the final outcome.
THEN: I pour the liquid part into the fondue pot when it's time to cook meats/veggies, leaving the chunks behind.