I am an absolute lover of fondue. I had my first fondue experience with a few friends right after college. Honestly, I had never heard of it before then – and they had to explain it to me in great detail before I finally went online to search for recipes. I had the responsibility of the main course, which was supposed to be 'easy' but I had no idea what I was doing.
That wasn't necessarily the best first experience ever: but I did follow it up with some great experiences at The Melting Pot – and now after several home fondue parties – I'd like to think that I've perfected the art of fondue at home.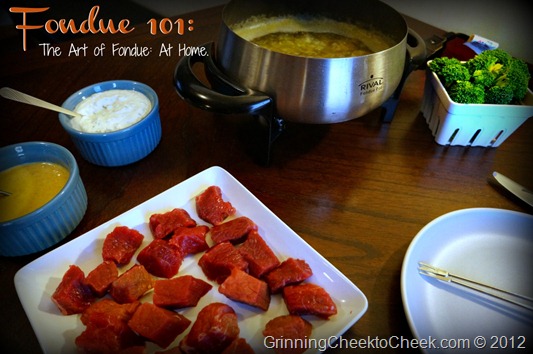 I'm going to share some of the recipes that I've loved – and any tips and tricks that I have to enjoy fonduing at home with friends and family!
Is it hard to have a fondue party at home?
Putting together a party at home is not as easy as they make it look at The Melting Pot. At The Melting Pot, they make all of the meals at your table: it looks so easy!
But, they've done all the prep work in bulk – behind the scenes. Gathering the ingredients, cutting them, measuring them, and grouping them by course takes some time. Dipping sauces are a very important part of fondue in my opinion: which adds to the prepping time.
How much does it cost to host a fondue party?
I've got to admit: Hosting a fondue party is not only a ton of work – it's also quite expensive. It is totally possible to divide the costs among the group: or make a party of it. The first party I attended, each couple took on a 'course' – and that separated the costs and prep time!
When I hosted my first party: I had to make some of the larger purchases, like a fondue pot (or three, really.) I definitely suggest at least three to be most successful and avoid doing dishes between courses.
The costs of ingredients depends on what spices you have on hand as well as what your tastes are. I'm very stuck in my fondue ways: I tend to make the same type of fondue each time – so my costs are constantly decreasing.
But still: each party I host I plan at least $50-75 for ingredients. More if you want high quality cut meats vs. cutting your own steaks from the store. I almost always choose the later. After all, I'm drenching the meat in my favorite dips – so I don't notice too much.
Overall: Fondue Parties are a ton of fun, and a great way to enjoy your company over the dinner table in a unique way!
Do you love Fondue?
Follow along with me as I showcase some of my favorite recipes!