I've been really getting anal lately about my floors being clean. I'm sure many of my regular readers have read and understand my frustrations with my kitchen and dining room floors. Maybe it's because I like the clean look and feel – or maybe its because its where my babies spend most of their day playing. But I'd like to have my carpets looking brand new as long as I possibly can – but that's SO hard when you have the cheapest -white- carpet in the world; and two kids.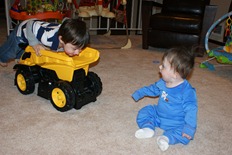 Just today we did a 'deep vacuuming' and vacuumed all the crevices that we could get with the vacuum – so it looks really nice. But I know soon here we should probably hire a carpet cleaner so we can keep our nice white carpets looking nice, and white.
One really nice thing is that we have Andrew pretty well trained. One day, not too long ago – we were playing outside most of the day; and he was going up and down the deck stairs – I had NO idea that he was going inside the house; but when we got in – I could see every footprint and every location where he had walked. I was so… not.happy. I showed him and talked with him about why we couldn't have shoes on the carpet as we cleaned the mud footprints together. He's very perceptive to our feelings, which is nice. Now he knows that he can not go onto the carpet with his shoes on – and even scolds us for getting close to the carpet with shoes on.
Just today we had grandma and grandpa over; Andrew was playing in the garage with some toys that they had brought for him from my husbands childhood – and then came inside with his shoes on – and grandpa called him into the living room. He just stopped right at the edge and stood there while we called him. But then he looks up and looks down at his feet – to show us why he wasn't coming into the room. That made me so proud

He does, however, have an issue with leaving his sippy cups full of chocolate milk out around the house; which in turn leads to lots of tiny chocolate milk dots leaking all over our carpet (mostly downstairs).
I'm sure over the next year or so we're going to have many, many more spills and problems with this stupid white carpet, and then we'll start talking again about hiring a steam cleaner to get those stains out vs. buying new – not white – carpet.