There are days where I wake up.. get the kids ready, and often find myself feeding them and cleaning up after them –and seriously realize at about 11:00am that I still haven't eaten breakfast. 
I'm TOO busy to eat breakfast… Isn't that how the story goes? Mine does.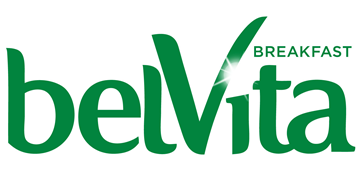 Anyway, So when I read about the belVita five day breakfast challenge, it SPOKE to me.  Something about…. not eating breakfast because you're too busy – plus when you DO stick something in your mouth, it's often snack foods, like… donuts, sweets, or other misc. chocolates (my downfall being chocolate covered almonds).   Yeah… it pretty much described me to a T.
In fact… that morning I read the description, I still had not eaten breakfast yet.  How's that for perfection?
When I received the belVita biscuits in the mail, my first opinion on the packaging was that it was going to taste… bland and .. grainy. Because honestly, it looks like cardboard biscuits on the pictures… and the grains pictured on the front doesn't help it's appearance much.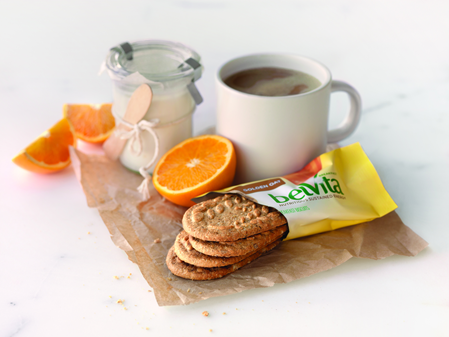 But. Let me tell you – They are anything but bland and grainy tasting.  My personal favorite was the Golden Oat flavor.  I'd equate the taste to something more along the lines of a graham cracker.  Sweet, but not TOO sweet… Crunchy, but not TOO crunchy… and easily addicting.
My husband and my boys' favorite was Blueberry.  My husband thought it tasted  a lot like a blueberry muffin or other bakery blueberry item. Me on the other hand, I like more of a subtle sweetness, and thought the blueberry was too 'bakery' for my liking.  Probably why my boys would be begging for more of these!
Addicting can be good in this situation, given the fact that these breakfast biscuits contains 19 grams of whole grain, 3 grams of fiber, and B vitamins. Also they have no high-fructose corn syrup, no partially hydrogenated oils, and no artificial flavors or sweeteners – which I almost wonder how on earth these taste so good then!?
They're designed to give you the sustained energy that you need to get through the morning.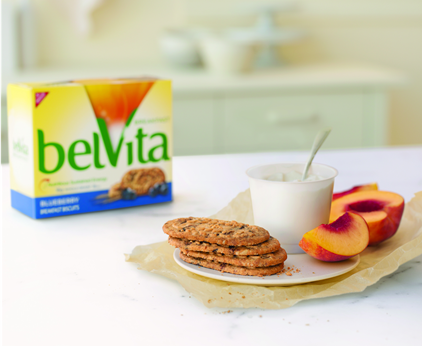 I would highly encourage you to pick up a few boxes of these for you and your family and try the 5 day challenge.  I've been scouting for coupons – and finally found a few in my local gas station, behind the counter.  He had a whole pad of them.  I was able to get two which is very helpful – as I know my family is going to ask for these again.
For more information on belVita Breakfast Biscuits visit: www.belvitabreakfast.com. For more information on how to "Power Up" check out belVita Breakfast's Facebook tab: http://on.fb.me/zuxmiQ
I wrote this review while participating in a blog tour campaign by Mom Central Consulting on behalf of belVita Breakfast Biscuits and received belVita Breakfast product samples to facilitate my review, and a promotional item to thank me for participating.