Hello All and welcome to Grinning Cheek to Cheek!! My name is Amy and over the past several days I've been posting about my New Years Resolutions.
One of my general resolution topics was to be healthier with my family.  I'm not expecting an overnight change where all of a sudden we're eating only organic salads and taking 5 mile hikes every day – BUT… I'm looking at the little things that we do.
So to celebrate the little things (and the big things), I've started a new weekly topic called 'Fit Family Friday'.  Fit Family Fridays is where myself and any other bloggers (or even readers) can link up (or comment) with the little or big things that they did this week to help their family live a little healthier.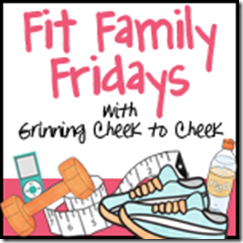 Whether it be a quick walk, getting out of the house, buying a new furnace air filter, going to the gym, making a delicious but healthy meal (that I SO totally expect a recipe for!) or visiting the dentist!  … Those kinds of things.
Lets share them all! and encourage each other through the baby steps it takes to live a healthy life in this so-easy-to-be-unhealthy world!
Feel free to grab my button to use in your post –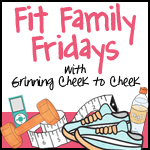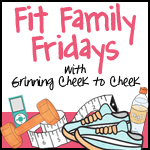 ____________________________________________________________________________
My Fit Family Friday:
Last week, I joined my local Gym. I was hesitant because I know I *want* to go, but I despise working out….  Can you Tell?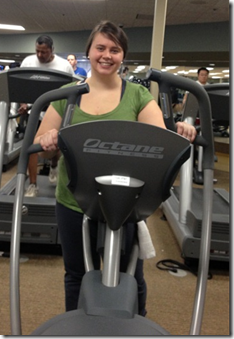 But – I have Motivation!!
Have you considered the value of those centers that have child care?
I hadn't.…
Until yesterday.
I was having an awful morning – the boys were nagging each other (yes, already… at age 1 and 3.) and my blood was boiling with every whine and holler.  I honestly felt like throwing my hands in the air and going back to bed.
But instead? I packed up the kids, and went to the gym.
I was *SO HAPPY* that I was able to leave them with some other responsible adults in a very controlled environment, and go take my anger and aggression out on an elliptical machine.
That is, Until 30 minutes had passed with my youngest crying and they had to come get me…
But – the hidden gem even through his sadness?  We came home, and he took a LONG nap.
Ahhhhhh…. I love my gym.
I've officially decided that it is the BEST KEPT SECRET with moms these days.
Who wouldn't pay $50 a month to have up to two hours of sanity per day, and get a work out – all at the same time?!  Plus? They have wi-fi!
I have a feeling I'll be spending a lot more time there…
___________________________________________________________________________
Join with me

  Tell me your new experience, or purchase, or recipe! Or whatever you feel like!
Then be sure to check out what all the other Mama's are doing to help their families live healthier!