I know it's been a little while since the movie What to Expect When You're Expecting came out – it's still not too late to catch it in theaters!
In honor of Fisher-Price being a sponsor of this exciting movie, Fisher-Price has offered to have me do a review and a giveaway for them of their Newborn Rock 'n Play Sleeper.

And, Well… since I don't have a baby – I had to borrow one from a friend!
My super creative friend Kelly (who just started a blog called MuddyFlowers.com) has a little baby named Isaiah (plus four other super-awesome kids).  So I asked her if she might have a need for one.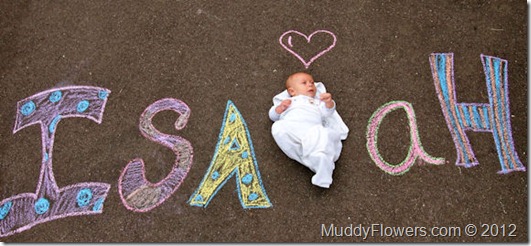 She said she didn't think she needed it, but I was more than welcome to borrow Isaiah for review purposes.
So a big group of ladies had a garage sale, and Kelly was there:  She had Isaiah with her, so I brought the sleeper with me! Kelly was watching as I set it up- and thought it was super cute, and very awesome how easy it was to put together!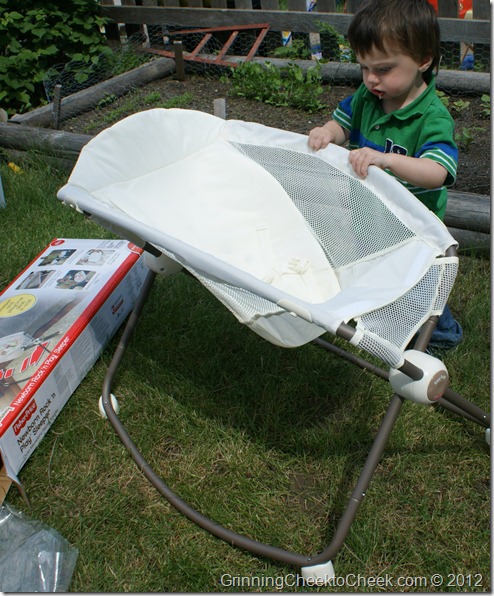 The base of the sleeper has the mesh panel and holds the washable and really soft cover.  As any mom knows, babies drool, spit-up, and have other offensive smelling messes – that are not always fully contained.  So it's important to have an easier way to wash the top layer without having to take the entire thing apart!  Fisher Price thought of that and put the attachments on the outside, which is brilliant!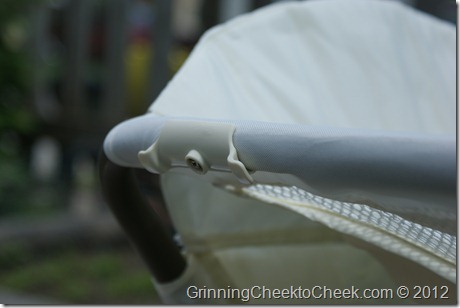 When put together fully – this chair is SO adorable and soft – and super cuddly.  The deep center of this allows babys head the opportunity to be a bit upright – allowing for more comfortable sleeping for many babies.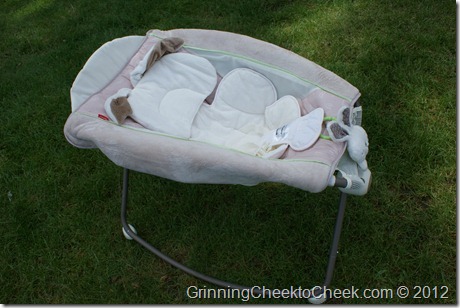 Also for babies who like to be snuggled all the time, this rocker and sleeper helps them to feel super secure and surrounded.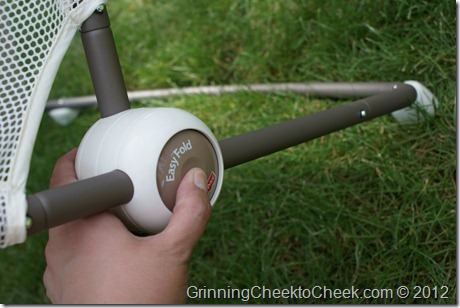 But I think one of the most awesome parts of this sleeper, is how with the push of a button – it folds in half, making it very thin, and easy to store.  Talk about being portable!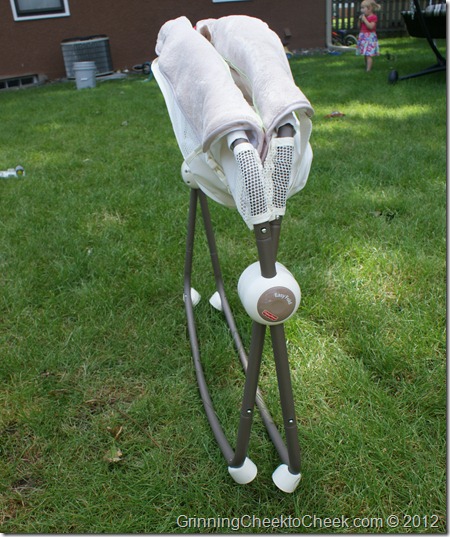 The Ultimate test was actually putting baby Isaiah in the sleeper.  He clearly thought that it was cool

  He also was able to hold onto the bunny ears a little bit!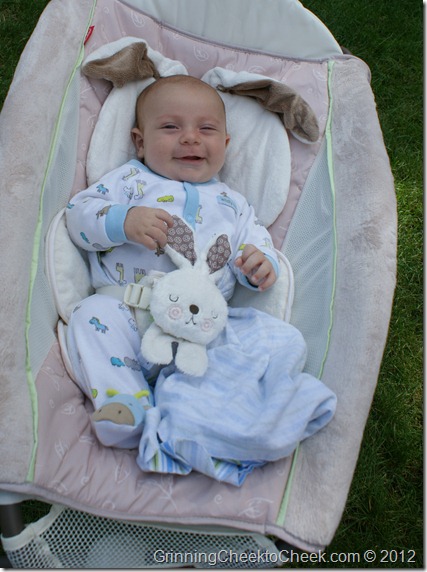 He definitely likes to be held and snuggled – so Kelly was carrying him around most of the day – and was really excited to see how easily Isaiah fell asleep!
In fact, Kelly was so amazed at how well Isaiah liked the chair, that she decided that she did want to keep it for a bit – and would then pass it along to someone else with a young baby when she was done with it.
<Sorry! Waiting for a picture here!>
She recently went camping, and it took up so much less space than a pack-and-play, that she decided it was a must-have for her camping trip – and ever since then Isaiah has preferred sleeping in the portable sleeper!
<Sorry! Waiting for a picture here, too!

>
There are several other functions that I'm not discussing today – but if you want to learn more about the Fisher Price Newborn Rock'n'Play Sleeper, you can find visit Fisher Price on Facebook, or their website.   The Rock'n'Play Sleeper is priced at approximately $50, and is a must have for any new mom! 
Win It!!!
Fisher Price has teamed up with me to offer their Newborn Rock n' Play Sleeper to one lucky reader!  (ERV $50)
How to Enter:
Mandatory Entry: Leave a relevant comment on this post: who you would like this for, what you think about sleepers, etc.
Then: Fill out the rafflecopter form.
Be sure to come back each day for extra entries!!
Rules: You do not have to be a blogger to enter/win. An email address is required to enter. The winner will be chosen randomly through Rafflecopter and contacted via email. A reply to the winning email is required within 48 hours before a new winner is chosen. One person entering per household please. US ONLY please.
This giveaway ends at 11:59 PM EST on July 13th, 2012.