Living in a house with two children in diapers – You get the FUNK.
Diaper Funk.
Being that we live here on a daily basis, I'm used the the smell.  But I'm so paranoid that others who aren't used to it walk into my home and suddenly smell this whiff of dirty diapers.
I haven't had any complaints – but then again, when was the last time you walked into a friends house and said… 'Man, your house smells!'
I had been looking for a way to get some fresh scents in my entry way.. But being that there are no plug-ins in the entry, I had limited options.  I often sprayed some Febreze into the entryway just to freshen it up a little bit, but that only lasts so long.
In comes Febreze Set & Refresh.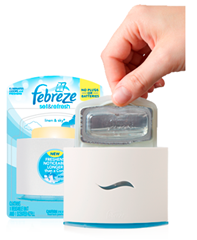 Febreze Set & Refresh provides 30 days of continuous odor elimination without the use of plugs or batteries.  No need to cut, open any weird packages or worry about spillage of oils.
It's small and sleek design with no need for power makes the Febreze Set & Refresh a fail-proof option for adding freshness to your home.
Simply push the insert into the unit, adjust the back for the amount of scent you would like released, and enjoy.
I was looking around my entry way,and realized that I don't have any place (like a table) to set the unit! Then I realized that due to the small size, I could get creative.
I have these sconces on my wall in the entryway stairs that are empty.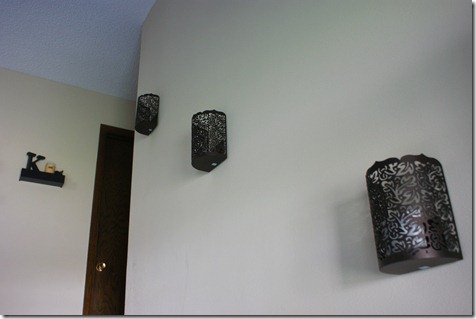 I was able to place the Set & Refresh unit inside the first one, and now can enjoy the Fresh Linen Scent as I'm walking through the stairs, or through the front door.  I hope others smell this as well vs. smelling my diapers! SO convenient and even hidden – which I personally enjoy.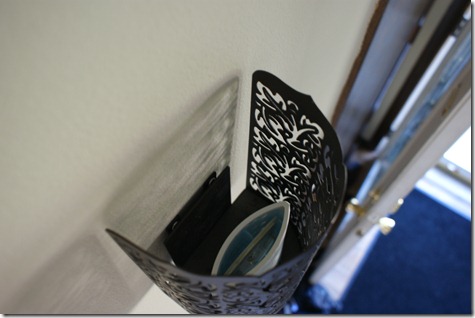 One thing to note:  I saw the Set & Refresh unit in my mom's house the other day near her garbage area.  I asked her how she liked it (without her knowing that I am reviewing the same item) and she mentioned that she couldn't really smell it a whole lot.  I, too didn't smell it very much.  BUT. then I looked at it and realized that she had the unit 'closed'.  To control the release of more scent, you simply lift the bottom half from the top half, and it makes the back circles open up – creating more release of scent.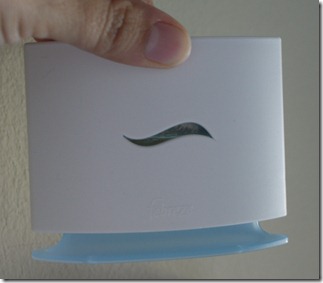 Good to Know! Now she is noticing the scent more frequently and loves her Set & Refresh.
Learn more about Febreze Set & Refresh here, and try one for yourself!
I wrote this review while participating in a blog tour by Mom Central Consulting on behalf of Febreze and received a Set & Refresh unit plus refills to facilitate my review and a promotional item to thank me for taking the time to participate.