When you're looking for a really awesome gift that has some sentimental value – this is your place.  I used to always just go over to 'things remembered' to get gifts that are engraved – but they are SO expensive and so fancy – almost impractical for a regular gift for any occasion.  But with Personal Creations, you can get a gift for a wedding couple such as – this adorable wall frame with their names and wedding date engraved on it.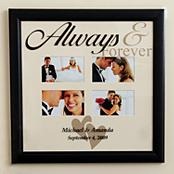 I love the Father's Day gift ideas they have here as well – and I had such a hard time deciding what I was going to get for my 'review' object.  But – I'm not telling anyone what I got because it's top secret until I can give the gift.  Just know that I was thrilled to get this item and I love it

.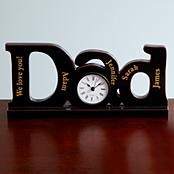 One of the best things about personalcreations.com is that most of the products have reviews by other people who have gotten that same item in the past.  So you have a good idea about what others thought about the product before you buy it!
The best thing they could add I think would be a 'save' feature – where you could add the items that you see into a list – or email them to yourself as a reminder.  I saw so many gifts that would be perfect for some of my friends and family members while I was looking at which item to pick to review – that I wanted to save them for the future so I can come back when I'm looking for a gift for them.
So the next time you're looking for a reasonably priced, but very personal and special gift for someone – check out personalcreations.com.  If you join them on facebook and 'like' their page– you will get a thank-you gift of 20% off your order!
Win It!!!
One lucky reader will receive a $50 gift code to Personal Creations!!
See rules here if you are new to entering contests.
The First Entry is Mandatory: Visit www.personalcreations.com and let me know something that you would like to get as a gift for someone.
Optional Extra Entries: (only after mandatory entry has been completed)
Subscribe to my blog via email
Follow my blog publicly via GFC
Follow my blog via Networked Blogs
Post my NEW Button on your blog. This button is different from the old one and the coding will need to be changed.
Follow GrinCheek2Cheek on Twitter on twitter and tweet about this giveaway: (this may be done daily)
Great gifts are Personal – #Win a $50 Gift Code to PersonalCreations.com @GrinCheek2Cheek #Giveaway Ends 6/13 http://tiny.ly/TXy9
Like GrinningCheektoCheek on Facebook!
like Personal Creations on Facebook!
Vote for me on picket fence blogs. One Entry per vote(per day).
Enter any of my other Current giveaways. 1 extra entry per CURRENT contest entered.
NEW: Post my link on any of

that day's

CURRENT

Public Giveaway linky for this giveaway. Should say something like – GC2C– PersonalCreations.com $50 GC- Ends 06/13*and the link*. Comment to me the link to where you submitted it. (i.e. for a Tuesday Giveaway Linky – post it anytime before midnight that same Tuesday)Giveaways Ends June 13, 2011 at 11:59pm. Winner will be drawn by 'andthewinneris…' the following day, and will be e-mailed. Winner will have 48 hours to respond or a new winner will be drawn.Note: I changed the dates to end on 6/13. For some stupid reason I thought Father's Day was on the 12th, but it's the 19th!! We have more time 🙂