So along with having 10 quilted stockings to make, 6 blog posts to write and about 15 batches of Christmas Goodies to bake before Christmas– I still have to be 'present' in my home.
The cooking can't end, the kiddos still need diapers, and my husband is still hungry when he gets home from work!
Thankfully this past week we've had a nice stocked freezer with some more Marie Callender's Goodness!! This time we're talking Pot Pies.  Uhh, Yum!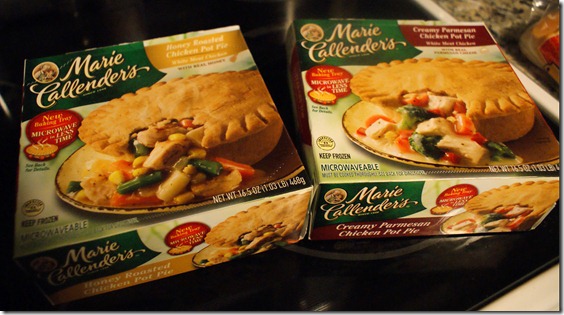 Filled with juicy meat, tender vegetables and a signature golden, flaky crust made from scratch, Marie Callender's Pot Pies offer great taste and comfort to savor.
Marie Callender's Pot Pies are a wholesome and complete dinner solution made with no preservatives —perfect for the whole family!
Whether you crave chicken, beef or something creamier, you can choose any one of seven varieties of Marie Callender's Pot Pies and feel confident in serving your family a delicious, comforting and warm meal during the cold-weather months.
I love having a quick solution to dinner – one where especially I just say something along the lines of, 'Honey!  The Pot Pies are in the Freezer. Throw them in the microwave. Follow the directions!'  And a few minutes later we've got dinner…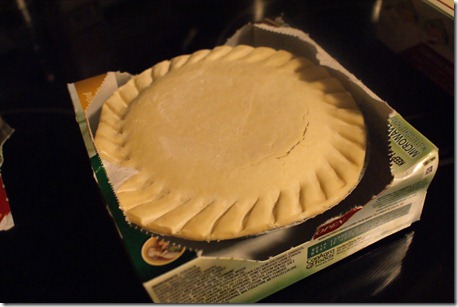 Best part?       NO DISHES!!
– but lately I haven't had the time or energy to defrost the chicken in advance, then cook it and shred it and then make the pies… I mean, those can really be a labor of love. (Especially with two toddlers in the house!)
Not that long ago I had purchased some strange brand $0.99 pot pies for quick lunch options – and they were over salted, and really not that good.
So I was *REALLY* hoping that these would taste more like home-cooking.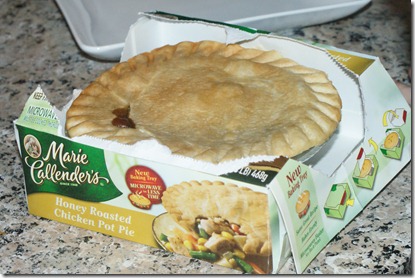 And they did!  They were so yummy! The crust is flaky and the insides aren't over salty or fake tasting. The chicken actually tasted like the chicken that I shred and not like a chewy piece of rubber.
I liked that I could throw it into the microwave and have it come out as if I baked it in the oven!
Marie Callender's Pot Pie varieties include:
Chicken Pot Pie
Turkey Pot Pie
Beef Pot Pie
Creamy Mushroom Chicken Pot Pie
Creamy Parmesan Chicken Pot Pie
Honey Roasted Chicken Pot Pie
Cheesy Chicken Pot Pie
We tried both the Honey Roasted Chicken Pot Pie and the Creamy Parmesan Chicken Pot Pie.  I preferred the Honey Roasted – but my husband preferred the Creamy Parmesan.
You can find Marie Callender's Pot Pies at your local grocery stores, ranging in price from $2.00-$3.00.  Find more information about Marie Callendar's items by visiting  http://www.mariecallendersmeals.com.