Thought I'd write a post to catch y'all up on our lives.  Ethan had surgery – all went well.  Then about a week later he got a double ear infection; and Andrew had a sinus infection that was just hanging on – so they were both cranky and medicated.  We spent a lot of last weekend cleaning, re-organizing, and making a better plan for ourselves. We had been eating out too much lately, being so busy and so tired taking care of sick kids and whatever that we just would decide to eat at McD's instead of cooking.  SO I organized a menu (not a daily menu, but an overall menu) and sorted through the cupboards to see what I needed to stock up on, found some great meat sales – and decided that I wanted a grill so to make my menu work with all the meat that I found!  We had planned on getting a grill, but we were hoping to have the deck done before the grill.  But who knows when that will be started even! So my freezer is full, and for several weeks I should only have to keep up with perishable items in order to keep our bellies full!
So from our tax refund, we had allotted a small amount for a grill. After reading through several reviews throughout the web, I decided that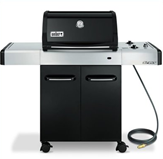 we needed to stay with  The Weber Spirit Collection for longevity and best bang for the buck and because I didn't want to buy a new grill every other year for the next several years.  As much as I would love to have a giant grill that we could entertain several people with, I stuck with the Weber Spirit E-210 Liquid Propane Gas Grill – and it seems to be more than sufficient for us so far! We've grilled three times on it already and it have had amazing results each time!  It takes only about 5 minutes or so to go from off to 550 degrees or so, and so that's really nice.  Then because it only has two burners; its not using as much gas as a 3 or 4 burner grill might use.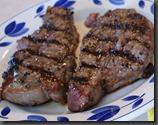 The downside is that we wouldn't be able to cook for a LARGE group of people all at once.  Earlier this week we had company and were able to fit four steaks, three large potato packets, and 2 sliced up zucchini's on it – but it was a squeeze.  I am looking forward to more grilling nights ahead though!
As the weather gets nicer, I am going to be figuring out a much better blogging schedule that will hopefully be a little more consistent! I have been so busy outside in the day, and then going to bed at a normal hour, where normally I stay up late and chat with friends in my mom blog community (which I often spend more time at than blogging itself!) *shame*    However,  We got our electric bill from last month and…

We're going to have to be MUCH more careful about the computer being on.  This is crazy to us, because we're used to a $60 bill.  I think much of it was the space heater usage downstairs – which we used a bit more last month before we got our first electric bill; and quickly decided that we were not going to use it any more.  So this bill is a little more than a month long- but still- crazy.  I can't wait to see what it'll look like with the a/c running.yikes.  I'm going to have to get used to a warm house I think.