One thing I haven't posted about in a while is my Vitamin C challenge I've been doing.  Back in February, I started receiving some Vitamin C Supplements from Ester-C to try out, and to help them promote the 24/7 moms contest.  Click here to check out my post about the contest.
Ester C is the #1 pharmacist recommended brand of Vitamin C, providing advanced active immune support.  Ester-C's patented formula is non-acidic and gentle on the digestive system.  It's available in coated tablets, powder form (as the To-Go packets), and now as delicious chewable gummies! Ester-C is a great supplement for anyone who is on the go 24/7, especially todays modern, multi-tasking mothers.

I first received the coated tablets.  I find pills a little hard to take.  If they're not in the right location in my house, I forget to take them!  I'm not yet on a regular pill schedule – so I took these pills a little more sporadically. And because I just started taking them; I don't think I realized any changes.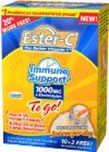 Second we were sent some Ester-C To Go in powder form to mix into drinks.  I quite enjoyed this.  I kept the packets at my desk; and mixed them into my water around once per day.  I like water that has only a light amount of flavor to it (for example – I love gatorade, watered down.) So to achieve this, I mixed the packet with a large glass of water.  This was a much more convenient way for me to take the Ester-C.  I still hadn't felt any different (although I'm not sure that you're supposed to??) But I did not get any illnesses over this period of time.
Unfortunately I only had enough packets to get me through two weeks – and then I didn't use any Ester-C until today.  I received the Ester-C Gummies! Mmmm. They're Good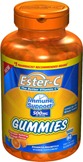 I'm a big fan of chewable gummies actually.  Our whole family takes gummy vitamins.  I typically leave these by my toiletries: so just before brushing my teeth I take them. They taste so good; it's hard to just take two!
Unfortunately I did just start getting another cold about two days ago. So hopefully by me taking the Ester-C again; I'll be able to keep my immune system firing on all cylinders and fight this cold to the death!!!
So overall – I can't really argue that Vitamin-C is unnecessary because all of the literature available in approval for vitamins in general as well as individually.  I personally feel it is important to take vitamins on a regular basis; yet I seem to have such a hard time with stinky or large pills that I have to swallow.  I much prefer my vitamins in easy-to-take liquid or chewable form.  That's what I love most about the Ester-C brand is the variety of forms, depending on what type of lifestyle you lead and how you like to take your vitamins!
*I was provided samples free of charge to facilitate this review.  I am also being compensated to share my honest opinion with my readers.  All opinions are 100% my own and in no way affected by compensation.