So I'm not a 'baby wearer' by any means. In fact, I'm quite the opposite really. I love holding my babes – but the idea of them strapped to me on a daily basis just turns me off.
But – That being said – I still fully agree that it is important to have a really good carrier for your child. Because – like it or not, there are going to be times when you really could use one.
I was able to review the ERGObaby organic black carrier.
Made with Organic cotton, for a more elegant look and feel. This Organic carrier features a Black exterior of soft, 100% organic cotton twill, with 100% organic cotton sateen lining and hood.
With separate Infant Insert, the all-in-one carrier that can be used for all your babywearing years

Allows parents to maintain closeness with baby while attending to daily activities

May be worn in front, back and hip positions

Comfortable for parent; balances baby's weight to parents' hips and shoulders

Supports correct sitting position for baby's hip, pelvis, and spine growth

Soft, smooth feel for baby

Ensured safety and security for baby

Increased durability and longevity of carrier

Maximum durability and fit

Fits most adult body types, from 5′ to 6'6″

Carries babies from infancy (with Infant Insert) to 45lbs.

Organic cotton – good for baby and good for the earth!
The ERGObaby carrier is awesome because it works perfectly for both worlds and you can hold your child up until they are 45 lbs – much farther than just the first months of life like with some of those cheaper carriers.
I love the ERGO because it gives you more options for holding your child. You can snuggle them close in the front, wear them on a longer walk on your back, or carry them for comfort or convenience on your hip.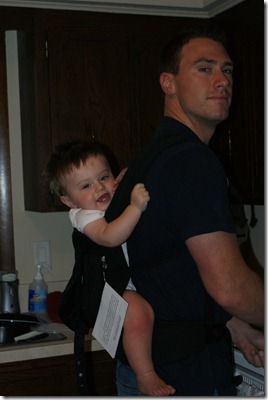 My husband spent about 45 minutes wearing Ethan who is 23 lbs around the house on his back. We didn't have to do many adjustments to get it on comfortably for him, and he didn't have any backaches or anything after wearing him around.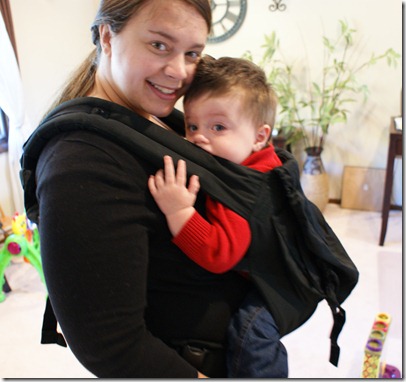 I was able to get him on and off me by myself without too much effort on my behalf – so I feel confident that I could go to a park or for a walk with Ethan attached to me. He would definitely enjoy doing that – and that would be so much easier than the stroller!
The definite downside of having a child like Ethan on my back – He likes to grab… especially hair. I won't be doing that again until he outgrows this phase!
It feels great that I don't have to worry about packing the stroller in the car anymore when I'm leaving the house. Just keeping my Ergo in the car is enough and takes so much less space!
You can purchase an ERGObaby Carrier at www.ergobabycarrier.com – they have amazingly cute designs, as well as some plain ones for your plainfolk – like me. I saw Jen's ErgoBaby carrier that was grey, and I loved it – I don't think the pictures online do them justice – so I got black.