Although I have not been posting that much over the last several weeks, I have been really busy behind-the-scenes working on several projects.  Not only am I preparing for the Blog Her convention with my print-outs, media kits, and regular daily printing – I also have been preparing for my very special cousin's bridal shower.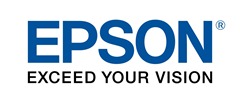 I am so thankful that I was able to coordinate a review with Epson on their Stylus NX625 All-in-One printer with built-in Wi-Fi – because my other printer was very much on the fritz, and chose when and how well it was going to work (but, it was 9 years old… so that's pretty understandable.)
I was able to flawlessly print the 26 invitations with the ink going right down to the bottom of the page (borderless printing!) and my husband even set up a document to print the envelopes, so that I didn't have to hand write everything!!  I am so impressed.
My son is SO fascinated with grabbing things right hot-off-the-press as they're coming out of the printer just to bring them to me, I often worry that the ink is going to smudge and get on his hands, or ruin my document or photo that I am printing.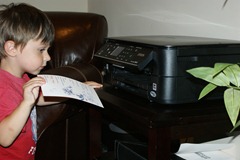 In the nine years of owning our printer, I believe I have trusted it only a handful of times for printing pictures (which is why we have very few pictures printed).  But over the last few weeks I have been sharing some really cute pictures here on my blog of my children.  My husband came home from work on Friday and asked – "Why don't I have any of these pictures at my desk at work?"  So this morning, I printed him off some pictures – totally borderless, and completely perfect.   I also printed some for both grandparents!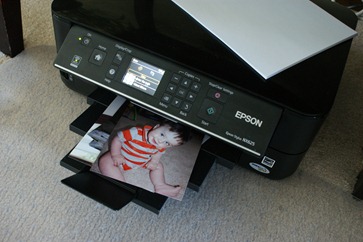 The Epson Stylus NX625 is ideal for families and students as it offers superior performance at an affordable price. With built-in Wi-Fi n, the latest wireless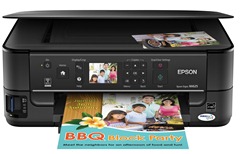 standard, multiple users can conveniently share one printer. The feature-rich all-in-one also prints from mobile devices2 (including the Apple iPhone), offers automatic two-sided printing, and boasts a 2.5-inch color LCD and built-in memory card slots for PC-free printing. Quickly and flawlessly print everyday documents from simple e-mails and vacation photos to elaborate invitations and more- all from the comfort of your own home.
I am also working with some great realtors trying to get our condo out of our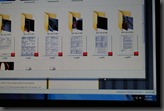 hands for good.  We've got an offer and it's going through all the short-sale proceedings, and when they've needed some extra documents lately, I was able to quickly scan and email them right from the printer.  The papers all saved as a PDF in my computer, which was rather helpful for emailing!
Some really great features of this printer that I've thoroughly enjoyed are that the front panel is a tilting panel – and you can angle it wherever is most convenient for you.  That way, we can have it on a shelf that's lower and not have to get on our hands and knees just to see what it's telling us to do!  Also I love the interactions of the panel. It shows exactly which buttons to push, and is very user friendly.
I also like that all the expandable features tuck in nicely.  Like the paper drawer, and the 'catch' tray <I'm real technical with names here..> they both tuck into the printer nice and tight – so I don't have to worry about them breaking with my two young boys…  I also love that it prints edge to edge, and double sided.  No more worrying about cutting off the photo edges or having a crooked border – and I can print double sided for documents that are larger!  Saving time and paper!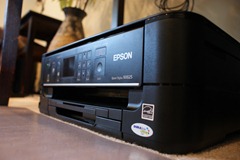 I like the fact that it's Wi-Fi – so When I'm printing things like… coupons… I can use both my home computer and my laptop and not have to change the cord!  Usually, when I want to print something from my laptop, I have to either email it to myself so I can print it from the big computer or I have to dig around and change cords to hook the printer to the laptop.
There is only one issue that I'm not totally thrilled with about this printer; and would personally have me looking at another model of printer from Epson:   There is no fax machine.  I mean.. Not that many people really *need* a fax machine any more – but.  There are occasions for it, and to be honest – I've had to use my old printer to fax twice since I got this printer.  Also – I could easily fax some papers, but instead I scan them and e-mail them.  But having sensitive information in my email is not exactly my favorite choice either.  So My personal recommendation would not be for college students who will soon be applying for jobs, because of the lack of fax machine, however – there are services out there – I think even skype – that faxes documents that you've scanned.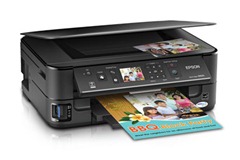 So overall, I love this printer.  Compared to my old printer which I'm sure we paid around $299 for – it's 9 years of innovations gone by, and is now one of my favorite objects in the house.  It is a great printer for the everyday stuff, and for the more detailed jobs as well.  And for only $99 – this printer is… Awesome.