I never really understood large purses… until I was a mom, multitasking a purse and a diaper bag, then transitioning out of the diaper bag.  Now I need this, and that, and preparing for EVERY possible scenario when we leave the house.
And NOW?  Now I'm a Minnesota Mom Blogger – and I need to have a bag that works for me to carry my camera, and maybe even my laptop around with.  I never know when I'll have a few extra minutes to spare!
So of course I need a bag that fits my lifestyle.
I really didn't think that this all existed, until my friend Heather from OurKidsMom.com showed me the website for Epiphanie bags.

Wow. I was BLOWN away.  Not only by the sheer organizational possibilites, but also the amazing looks of these awesome bags!My first thought in my mind??? BlogHer.  I'd need my laptop and my camera – and since I think my toddler threw away my point-and-shoot camera, I needed to tote my large camera. That's an awful lot to carry around!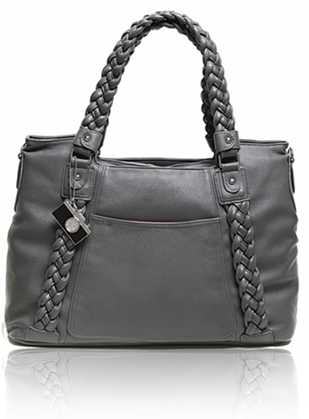 So I contacted Epiphanie about their 'clover' bag.  I *love* grey, and I *love* purses with colored insides.  Love it!
This carry-all is designed to accommodate your iPad or 15″ laptop, camera + attached lens, 2-3 extra lenses, flash, battery pack, wallet, keys, cell phone, memory cards and more! Jetsetters – you'll be happy to know this fabulous carry-on fits perfectly under an airplane seat. Moms – pack your camera, diapers, wipes and snacks in this bag and you're ready for a day out with the kids!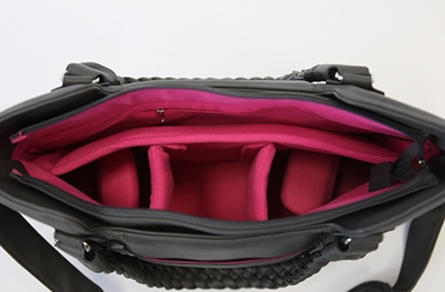 When I first opened the package – it was much larger than I had originally pictured in my head (which of course, because it's got to be large enough for a laptop, camera, lenses, and whatever else!  The bag was wrapped so beautifully in this pink case, making me think at first glance that the purse was PINK! eek!
***Interesting fact about me: I love pink, and dream of pink sparkly shoes and pretty girly things – but I'm too chicken to wear bold colors… So I prefer them hidden, but visible to me

***
I was instantly relieved though upon picking it up to realize that it was, in fact, grey – and sooooo much prettier than a picture could possibly show.
I love that this bag has removable inserts that can be arranged in whatever fashion you might need. It has a perfect place for your laptop, for your camera, and for an extra lense or two, and can still fit your regular wallet and other accessories!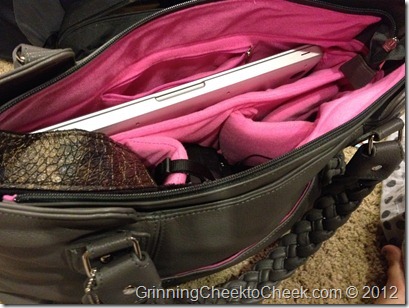 It was perfect for traveling with, I kept everything that I wanted on the plane with me in this bag, and used my 'carry on' for my clothes! while going through all the security at the terminal, I was able to stick the important things in the front pocket for easy access, so I was never fumbling around to get my boarding pass or ID.
I was also calm, knowing that the front pocket is tight and secure enough for a few pieces of paper – that I wouldn't lose them.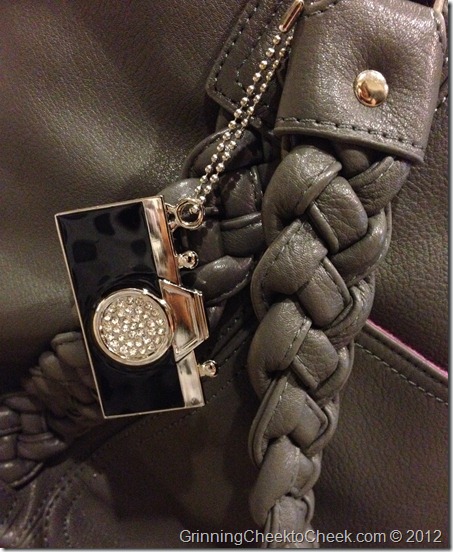 A few downsides to the Clover:  I found it to be a little on the heavy side.  weighing 3lbs already before you put in a 6lb laptop, and another 5lb camera, plus accessories – the bag got to be a little much for my wimpy shoulders.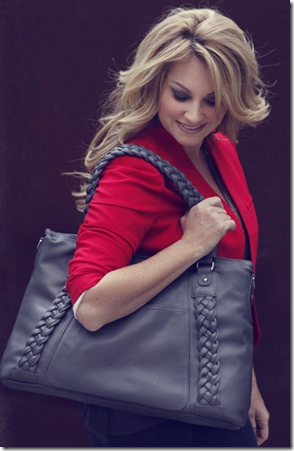 Had I remembered to bring the shoulder strap with me – I would have appreciated this a LOT more while walking around the streets of NYC in the rain. (Btw, it fits an umbrella perfectly as well!).  But of course, on my way home from the airport, I found the shoulder strap sitting right where I left it in the trunk.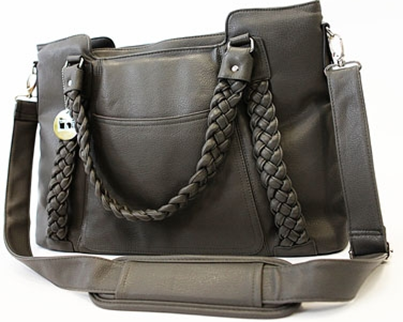 I'm looking forward to trying out a few other bags from Epiphanie, maybe some that are a little smaller and more practical for my every day life. I've got my eyes on a few other styles!
You can connect with Epiphanie on their website, Facebook, Twitter and Google+
What styles are you interested in?  Check out the EpiphanieBags.com website, and see which bag fits your personality and needs?  Hint: They also have bags for MEN!
Want one of them?? You're in LUCK!!
Win It!!
One Lucky winner will receive an Epiphanie Bag of their choice!!
(ERV up to $225!)
Open to Everyone – Any Non-USA winner will be asked to pay shipping costs.
How to Enter:
Mandatory Entry: Visit EpiphanieBags.com and let me know which bag you might choose if you win!
Then: Fill out the rafflecopter form.
Be sure to come back each day for extra entries!!
a Rafflecopter giveaway

Rules: You do not have to be a blogger to enter/win. An email address is required to enter. The winner will be chosen randomly through Rafflecopter and contacted via email. A reply to the winning email is required within 48 hours before a new winner is chosen. One person entering per household please. US winners will receive item free of Charge.  IF you win and you live outside of the US, you will be asked to pay for shipping costs.
This giveaway ends at 11:59 PM EST on October 6th, 2012.