Don't you love it when your kids are entertained for hours on end by one fun toy?  What's even better, is when they continue to go BACK to that toy, and have more focused fun with that same toy.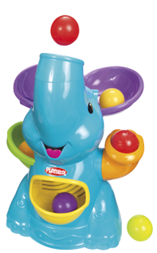 That's what it's like with our new Elefun Busy Ball Popper from Playskool!
This toy keeps both Ethan and Andrew entertained (At different times of the day) for long periods of time!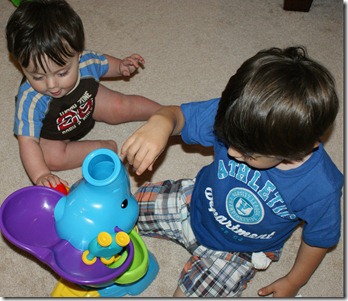 Ethan loves to push the button on Elefun's hand and dance to the music.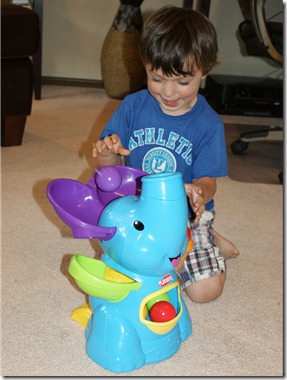 Andrew loves the air that comes out of Elefun's Trunk!  He likes to have the air blow into his face, and he loves to experiment with the balls – trying to push the ball back down, or holding his hand over either end of the trunk to see what happens with the ball!  At the same time as playing, he's actually learning a lot!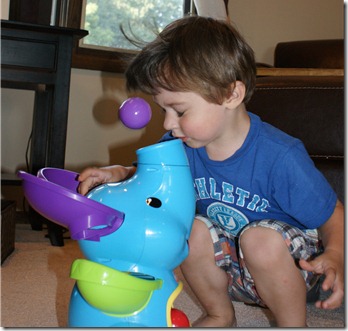 Elefun takes 4 "D" Batteries, which might seem like a ton – but they are putting out a ton of work by generating the air-flow..  We just had to change the batteries, and Elefun is one of the most used battery toys in our house over the last two months!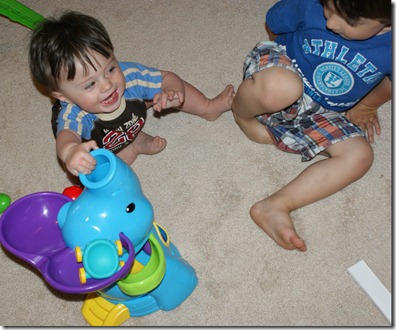 At a very small investment of apx $25, your children will be fully entertained for some time to come! This toy should be on everyone's wish list, if you don't own it already!
You can find this toy at most major retailers, and Hasboro Toy Shop!