I didn't mean to fall of the face of the planet this weekend – but I have been so busy with family activities this weekend that I just didn't have the time to sit down at the computer!
We went to church Friday night for Good Friday service, which was great – and then Saturday morning was the church Easter egg hunt. The younger kids had their eggs hidden inside while the older kids were outside (where the ground is still a little wet)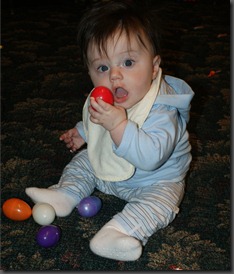 Then we had to clean the whole house for the company we were going to have on Sunday; then drive out to Joe's parent's house – which is about a 40 minute drive away.  They are cleaning out the garage with a rollaway dumpster and had several items for Joe's childhood that he had to sort through whether to keep for our kids or throw away.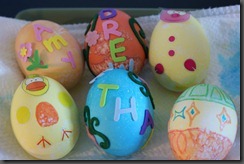 Then we had Joe's brother and sister-in-law out in the evening for dinner and Easter egg decorating; baking bunny bread; and Resurrection cookies.  I think they left after midnight.  Then I had to stuff the eggs and fill the Easter basket for Andrew.
Sunday morning I was feeling quite sick. I had taken some medicine on a somewhat empty stomach (if you could count chocolate bunny as 'food')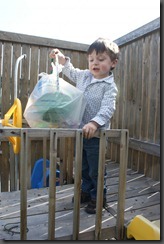 and just could barely tolerate setting up for my families arrival.
My mom came early to help get ready for the Easter party we had here.  It was just my mom and step-dad; and both sets of children/grandchildren at our house for Easter. about 13 people. not so bad

Everyone left around 7:30pm and then it was clean-up and relaxation time.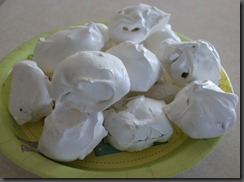 I had full intentions of sharing the Resurrection cookie recipe with y'all before Easter – but I'll get it up here soon and then you can bookmark it for next year or something. They taste great and have a great message to work through along with your children.
I'll be getting a few posts up today and hopefully finishing off the Spring Cleaning and Home Projects week by tomorrow and then we'll get started on the Mother's Day Event!!