I have a horrible confession to make.
I.  Do. NOT. Dust.  (Unless my Grandma is coming over

)
Not exactly sure why –  I just, don't do it.  I'm more obsessive about my floors than I am any other furniture pieces.
When my friend Angie comes over – she almost always grabs a rag and dusts for me, because it bugs her. That's half the reason I invite her over, right? … No, I'm just kidding… A Little.
Well – It's clearly been a while since she's been over, because I have plenty of dust on my furniture.
Serious.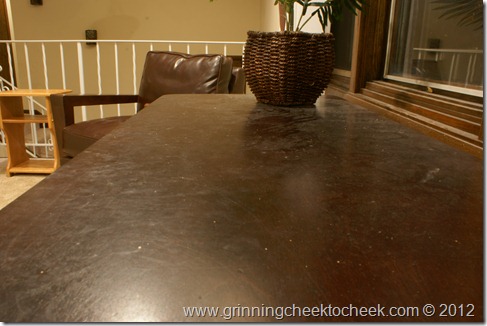 Lets try this out
Anyway, I recently had the chance to try out the Guardsman Wood Cleaner – which was just the perfect excuse to actually take care of my wood, vs. just wiping it quick with a dry rag seconds before company walks through the door.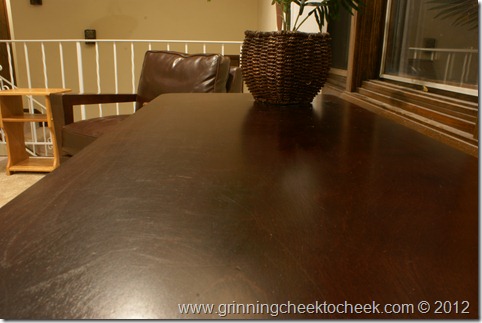 I have several wood pieces in my home – one in particular that we 'inherited' from Joe's parents.  His mom and dad used since as far back as Joe can remember.  Him and his siblings would play under the table when they were younger.  It is pretty well beaten-up, but has sentimental value to him.  It needs some work.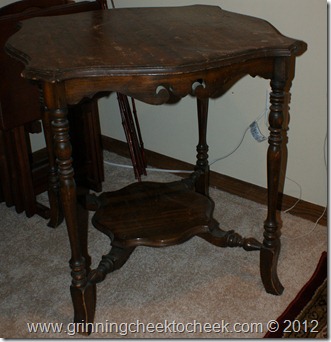 We haven't officially found a resting spot for this table, so meanwhile it's in our spare bedroom, and gets random things piled upon it.  I cleared it off and cleaned it up. 
I was a little nervous that the table didn't have enough protective coating on it to use a liquid cleaner, so I tested it before using it just to be sure that it wouldn't ruin the wood.  It was just fine – so I cleaned it up too.
I'm glad that Guardsman is gentle enough to use on some of our most treasured pieces as well as using it on our newer wood pieces.
I'm not sure that it's going to convince me to dust any more than I previously did…. but that's my own problem.

I personally think as a busy mom that grabbing a quick pre-soaked wipe is so much easier and more probable for me than grabbing a spray can.  But when company is coming over, I'm glad that I've got a deeper cleaning wood cleaner that can give my wood a fresh start!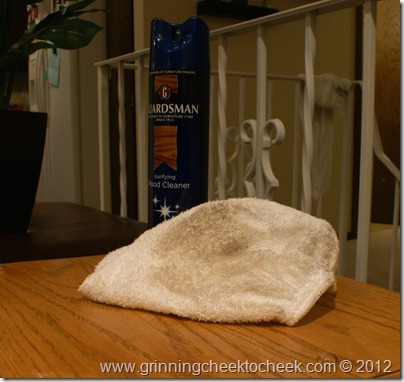 Stop Cleaning.  Start Caring.
Guardsman and design star Tracy Hutston started a new campaign called, 'Stop Cleaning. Start Caring.' where they are challenging Americans to rethink traditional furniture cleaning by giving furniture it's own beauty routine. Guardsman donated $25,000 to Habitat for Humanity to kick off this campaign.
Want to win a $1500 home design?
You can share your favorite furniture story on Guardsman.com and Tracy Hutson will select one lucky winner to receive a personal design session in their home. This includes a $1500 room re-accessorizing and shopping experience, plus a suite of Guardsman products! 
I wrote this review while participating in a blog tour campaign by Mom Central Consulting on behalf of Guardsman Furniture Care and received a Guardsman product and a promotional item to thank me for taking the time to participate.