Ethan was born in the winter – and shortly after he was born he was showing the effects of the cold, dry, Minnesota weather on his legs.  I was always worried about the bumps, thinking that he had a rash.  The doctors continued to say that it was Eczema – and gave us a few tips on helping to keep it under control.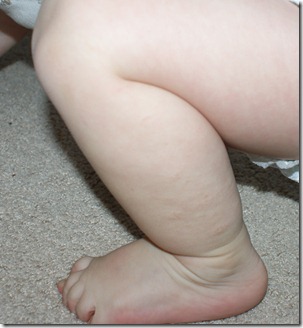 Fortunately it seemed to get better when the weather was warmer.  But now that it's winter again – It's back.
I've been trying a few different lotions on him – but ultimately it was the petroleum jelly type that seemed to do the most justice.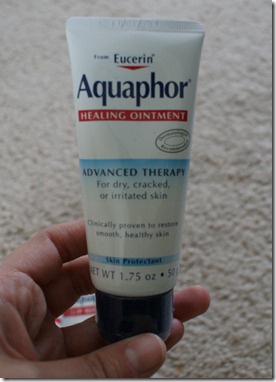 We recently tried the Aquaphor ointment and although it is quite thick and almost greasy feeling when you put it on (due to the main ingredient being petroleum jelly) – I can already tell a major difference in the softness of his legs after only about a week of use.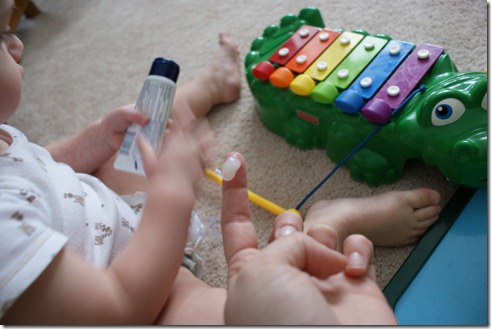 Ethan doesn't seem to mind it going on – and although I haven't ever noticed him scratching at his leg – his dry skin could be bothersome, so I'm hoping that this helps him.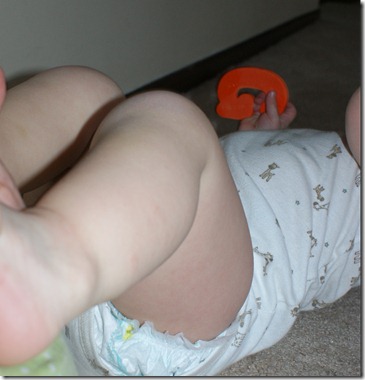 Aquaphor also makes some other great items that help yourself or your babies in this dry, winter weather!
Aquaphor Healing Ointment– Dermatologists trust this product to protect and relieve dry, cracked skin. It is also recommended by athletes to help prevent friction burns, blisters and chafing that intense physical activity can often cause.
Aquaphor Lip Repair– Enriched with shea butter, vitamins C and E, and soothing chamomile essence, Aquaphor Lip Repair provides immediate and long-lasting relief, and seals in moisture – perfect for long outdoor training sessions or when hitting the slopes.
Aquaphor BabyHealing Ointment is a pediatrician-recommended formula that will soothe and protect your baby's uncomfortable dry skin and provide effective relief for dry, cracked skin.
Aquaphor Baby Gentle Wash & Shampoo – is a mild, tear-free and fragrance-free cleanser for daily use on baby's sensitive skin.  Aquaphor soothes and protects your baby's skin to help keep your baby comfortable throughout the entire winter.
You can enter below to win a prize pack from Aquaphor including a $50 Visa Gift Card!!
Also Check out my friend Dee at CocktailsWithMom.com because she is giving away a very similar prize package on her site as well!!
Aquaphor is also hosting a really neat contest on their Facebook page – you should head over and check them out!
Win It!!!!
One VERY Lucky Reader will Win one of each of the four above mentioned items – AND – a $50 Visa Gift Card!
Mandatory Entry: Like AquaphorUS on Facebook! (This can be done really easily in the Rafflecopter).