From the makers of Madagascar and Kung Fu Panda, TURBO is a high-velocity 3D comedy about an underdog snail who kicks into overdrive when he miraculously attains the power of super-speed. But after making fast friends with a crew of streetwise, tricked-out es-car-goes, Turbo learns that no one succeeds on their own. So he puts his heart and shell on the line to help his pals achieve their dreams, before Turbo-charging his own impossible dream: winning the Indy 500.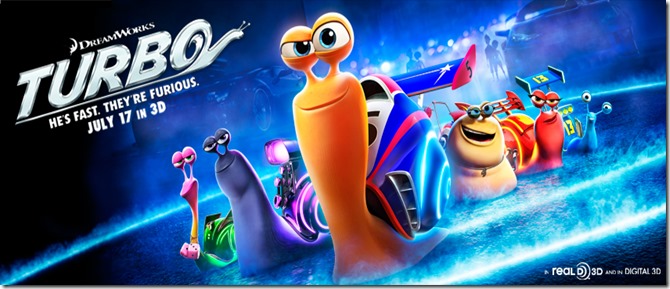 Starring the voices of Ryan Reynolds, Paul Giamatti, Ken Jeong, Maya Rudolph, Ben Schwartz, Snoop Dogg, Samuel L. Jackson
 Looks FUN, Right?
To find out more about the movie – check out the links below:
Visit the official website
Like Turbo on Facebook
Follow @GoTurbo on Twitter #TurboMovie
Watch the trailer & more on YouTube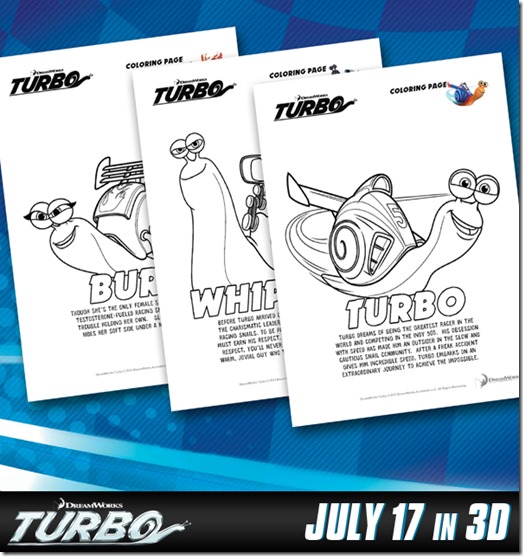 To get your kids geared up for the fun of Turbo – you can download these fun Coloring Pages for Free!
Keep your eyes peeled for a fun Turbo Giveaway coming up in a few weeks!