Micah is growing, teething and eating, so we use many products to help keep him happy and make life easier. A lot of those products come from Dr. Brown's! Earlier this month I did a post about the Dr. Brown's Gia Pillow (link) and loved it! Now Micah also has teethers, bottles, and a snack-a-pillar by Dr. Brown's. And I have a sweet drying rack (since I'm the house dish washer, haha)
Dr. Brown's has great products!
Everything we've used from Dr. Brown's thus far has been fantastic. The items are durable, the bottles are healthy, the teethers are cute, and the pillow is so comfortable!
Playtime – Dr. Brown's Teethers Make Life Easier
Teeth hurt! Micah has two on the bottom and one on the top so far. The top tooth just came in last week and he had a few crabby days with it, so we opened up some teethers from Dr. Brown's and he loves them! They are all easy for his to pick up and hold. Plus they are all developed by a pediatric dentist! One is a cute little watermelon teether (Dr. Brown's Coolees Soothing Teether), which he looks adorable chewing on, and it really seems to help. When he sees it, he instantly smiles and goes after it. He can chew on the watermelon or the "rind", and can be put in the freezer for the added comfort of cold.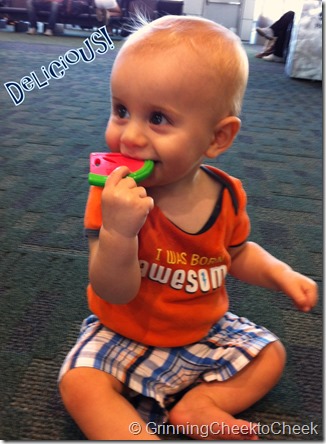 Or there is a cute little giraffe (Dr. Brown's Ridgees Massaging Teether). Another, the Orthees Transition Teether, looks like a pacifier, and he does often suck on it, or he can chew the ridges. It helps him transition from sucking to chewing, on the teether not on me, ouch. Or there is Flexees Ergonomic Teether that is soft and flexible with texture bumps. His favorite seems to be the watermelon or giraffe, but any of the 4 seem to help him feel better.
Mealtime – Dr. Brown's Snack-A-Pillar makes Traveling Easier
When Micah gets tired of chewing on toys and wants food instead, we always have some puffs or baby food around. The Snack-A-Pillar Stacking Snack & Dipping Cups are great for when we are out and about. The 4 little containers can twist together, or be used separately.
In bright colors, they are really easy for an adult to twist open, but won't pop open if dropped (or shaken). They are big enough to hold a good portion of food, and small enough to easily fit in the diaper bag for when we are out and about. My only wish is that the snack-a-pillar had a handle or loop of some sort to make carrying it easier.
Milk time – Dr. Brown's Bottles make Working Easier
Since I'm a working mom, Micah gets a bottle when I'm not home. Up until now, we've been using the basic Medela bottles, which really aren't anything special but they came with my pump and have been working fine. Then I started looking at the Dr. Brown's bottles and realized they are much more similar to breastfeeding, making the transition from one to the other easier.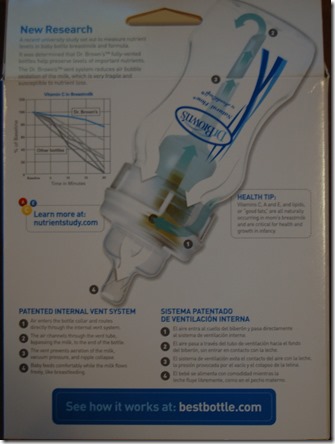 It is a vacuum-free venting system, so air can get into the bottle while Micah sucks the milk out. Without air getting in, it gets harder and harder to suck (imagine drinking a bottle of pop without stopping to let air in). Then when Micah stops to let the air back in through the nipple, air passes through the milk which apparently causes damage to delicate vitamins C, A, and E (VERY important nutrients).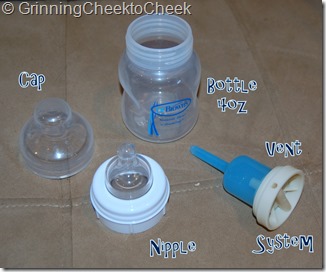 So the Dr. Brown's vent system vents the air to the bottom of the bottle, bypassing the milk, and preserving precious vitamins and nutrients. Check out more information here.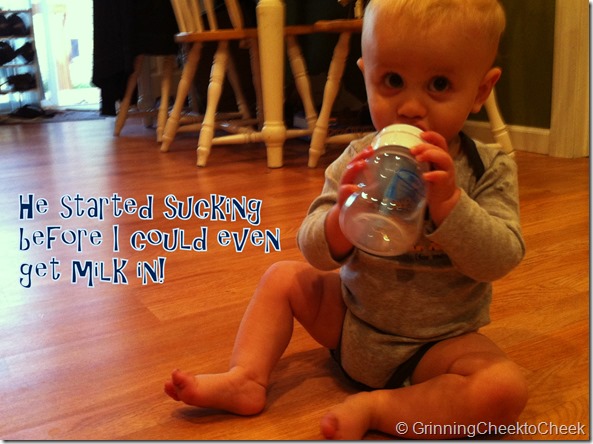 It also helps preventing Micah from ingesting air, which in turn helps prevent colic and gassiness. This would have been phenomenal when he was colicky as a newborn, I'll let you know if it helps the colic when we have another baby. Overall, the Dr. Brown's bottles make me feel better about him using a bottle while I'm away.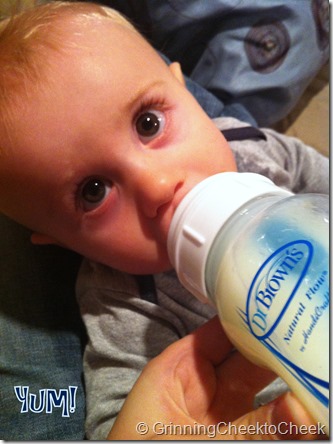 Bedtime – Dr. Brown's Drying Rack makes Clean-up Easier
Finally, at the end of the day, there are bottles, teethers, spoons, and snack containers to wash. The bottles come with a teeny tiny brush to wash out the vent system, I use a bottle brush (love the Dr. Brown's bottle brush) to wash the rest of the bottles and nipples, and then leave everything to dry on the Dr. Brown's Drying rack.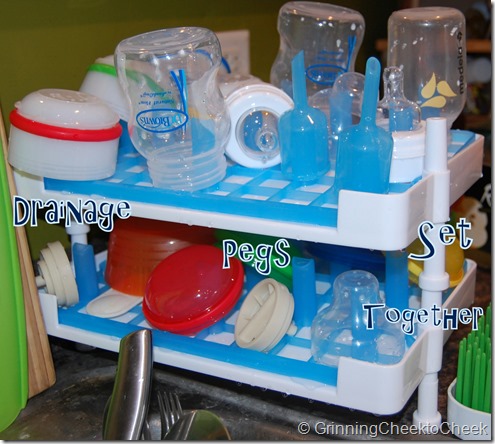 Easily stackable, with little pillars to hold items upright to dry, it's convenient and helpful. It it slightly tilted and sits next to the sink so the water can drain out rather than collect and mold in the bottom like many other drying racks (I frequently have to wipe out the bottom of the Boon Grass rack sitting by it the picture).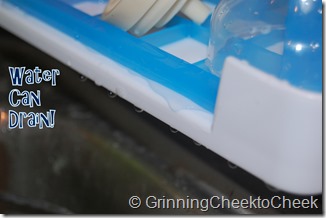 The top rack sets easily on top of the bottom rack, and I can easily lift up the top rack to put in or remove items from the bottom. Simple and wonderful.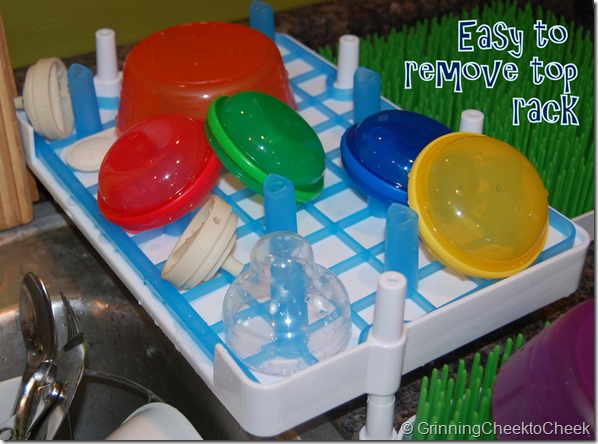 You can find Dr. Brown's Products at Walmart, Target, BabiesRUs, Burlington, BuyBuyBaby, and select other stores. Check them out online or in your local stores!