Dove has teamed up with Golfers and Men/Dad's alike!  They have created an interactive "Tournament to Comfort" golf came at dovemencare.com. Golfers will be able to play different holes from great courses around the world for a chance to win golf related prizes.   Fans can also win prizes simply by following @DoveMenCare on Twitter.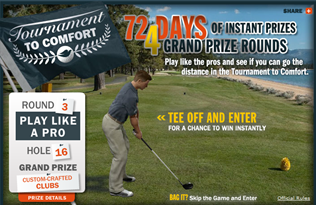 Dove Men+Care is also giving golf fans a chance to watch some videos online of two legend golfers as they share with you their own personal never-before-seen moments that tell their own "Journey to comfort".
From overcoming struggles as young athletes with families to stories from their wives, their "Journey to Comfort" videos highlight the challenges these men overcame to become comfortable in their own skin.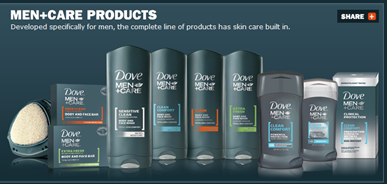 My husband loves the scent of the Dove Men+Care – and what he especially likes the most is the scrubbie sponge.  he likes that he can use the scratchy part on his tougher areas; but use the soft sponge to lather the soap in general.  He hasn't had any problems with the deoderant; and thinks he might switch permanently to Dove brand – because he likes the scent better.
Thanks to Dove® Men+Care™, all men can literally be comfortable in their own skin. Built on Unilever's success in the men's deodorant category and the Dove® brand's heritage in superior skin care, new Dove® Men+Care™ Antiperspirants and Deodorants are specifically designed to be tough on sweat, not on skin. The new collection is formulated to provide total underarm care specifically for men by fighting skin irritation and providing advanced, 48-hour protection.

Joining the collection of Men+Care Body and Face Wash is the new Sensitive Clean Body and Face Wash that clinically fights dryness better than regular men's body washes. It is hypoallergenic and created without dyes and fragrances for men who prefer a mild, unscented body and face wash. Additionally, the pH neutral formula guarantees a gentle, comforting clean for men prone to skin irritations.
Also online at www.dovemencare.com you can find a coupon for $1.00 off any of the Dove Men+Care products!
Win It!!!
One Lucky Winner will receive a 'Dove Men+Care' Care Package!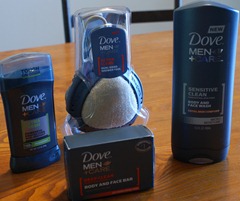 See rules here if you are new to entering contests.
The First Entry is Mandatory: Visit www.dovemencare.com and let me know which line of body and face wash you think your husband/dad would like!
Optional Extra Entries: (only after mandatory entry has been completed)
Subscribe to my blog via email
Follow my blog publicly via GFC
Follow my blog via Networked Blogs
Post my NEW Button on your blog. This button is different from the old one and the coding will need to be changed.
Follow @DoveMenCare on Twitter
Follow GrinCheek2Cheek on Twitter and tweet about this giveaway: (this may be done daily)
Dad's Can get Pampered Too!  Dove Men+Care is a great gift for Dad! #Win @GrinCheek2Cheek #Giveaway Ends 6/13 http://tiny.ly/nAmC
Like GrinningCheektoCheek on Facebook!
Vote for me on picket fence blogs. One Entry per vote(per day).
Enter any of my other Current giveaways. 1 extra entry per CURRENT contest entered.
NEW: Post my link on any of

that day's

CURRENT

Public Giveaway linky for this giveaway. Should say something like – GC2C– Dove Men+Care Gift Set – Ends 06/13 *and the link*. Comment to me the link to where you submitted it. (i.e. for a Tuesday Giveaway Linky – post it anytime before midnight that same Tuesday) (One entry for each current linky posted to)
Giveaways Ends June 13, 2011 at 11:59pm. Winner will be drawn by 'andthewinneris…' the following day, and will be e-mailed. Winner will have 48 hours to respond or a new winner will be drawn.