I've been hearing the buzz all around us that now is the time to register Andrew (who just turned 3) for Preschool.  I'm a little hesitant.. here's why.
I really had full intentions of doing a Homeschooling program for Preschool – I looked into several online curriculum's for Andrew (being that in September, he was still 2) I found a nice free curriculum for 2 year olds that was biblically based and VERY craft oriented.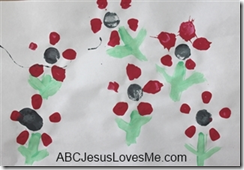 I was super excited for this – because I *love* doing crafts – and I was sure that I would love helping Andrew figure out each weeks crafts – and had visions of my walls and fridge filling up with tons of popsicle stick crafts and feathers and paint galore.
I went through the curriculum to see all the craft projects they had in store for the first few months of the program – and found a great affordable online craft supplies store, Factory Direct Craft, and ordered things like acrylic paints and brushes and beads and those cute puffballs…  I even went as far as ordering a laminating machine – so I could make cute flash cards and numbers and letters that are all laminated!
While we waited for our crafts to arrive, we did fun things like 'put the fire out' on the driveway with chalk and water –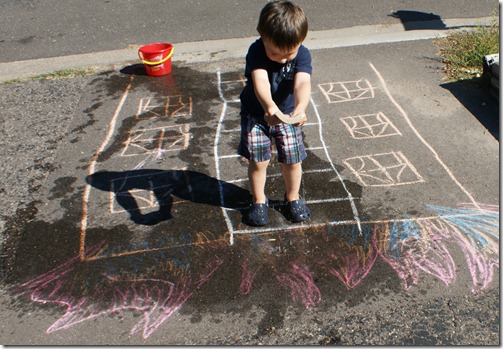 We played with different textures like rice and beans, and made a seek-and-find bottle.
It really was a lot of fun doing these projects with him – but the ultimate reality came when the supplies arrived in the mail! I was *so* excited to get him into the paints and drawing and coloring!!
But what I found out???
Andrew doesn't *do* crafts.
He simply doesn't have the attention span for painting, gluing, or anything else that has to due with 'craft' like projects.
I should have had my first sign of this sitting at restaurants.  A Crayon can entertain him for about…. 30 seconds.
So I'm a little terrified of him going to preschool and not being interested in participating with the rest of the kids while they do learning related crafts.  I mean – that's what I remember about preschool and kindergarten – it's all CRAFTS!
Do your kids enjoy painting or coloring or other crafts??