We don't.  But I'm going to tell you about the zoo we had growing up!
I was given a bunny rabbit for Easter one year when I was about 9 or 10. I named him Cuddles – because he was the cutest and cuddliest bunny ever. I could hold him upside-down in my arms like a baby doll.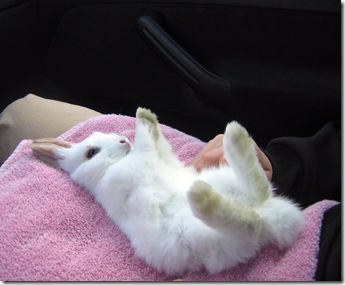 We also had a Peach Face Conure, which we took care of for a friend for several years until I was in about 7th grade.  He was a talker – and said… 'SpUuuuuUUUUuuuDs' (His name was Spuds). We would make a dinner plate for him, and he would crawl from his bird cage over to the table and sit on the corner of the plate, and eat things like noodles and crackers and whatever else he could eat!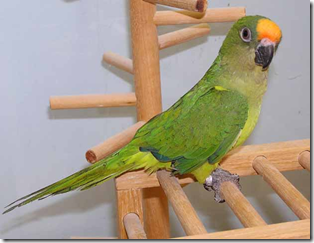 Then we had a Golden Retreiver, named Lucky Bob.  He was named that because he was the runt – and his owner was about to shoot him – but my mom wouldn't have it and so he was Lucky.  But when he was a baby, he would only respond to 'Bob.'  I loved him SO much – he died of many ailments, and suffered terrible hip dysplasia at 13 years old.  I miss my Lucky Bob too!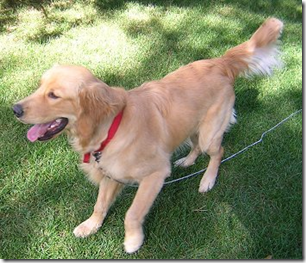 We had several Cats over the years as well. 

Our first named Tennessee Tuxedo – who looked like he was wearing a Tux – and was one of my mom's favorite shows way back when…
We had a Persian cat named KiKi – who was cuddly, and DROOLED when you pet her – She was gorgeous though – just VERY hairy.
Then Darla, and Dixie. They were sisters  Darla was my baby… She had several litters of Kittens – and every time she was pregnant, she would sleep next to me and loved when I rubbed her tummy.  At one point, both girls had kittens within days of eachother – and we had 14 cats in the house all at once.  It was CrAzY!!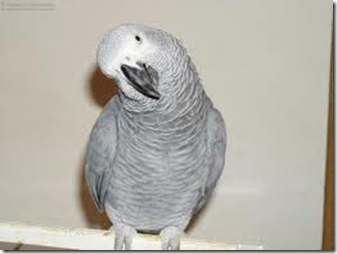 The COOLEST pet we had growing up – although I don't think I ever touched him because I was too terrified of being bitten…. was the African Grey Parrot.  This is one of the *Coolest* birds to own should you ever own one.  He was personality Plus – and could imitate ANYTHING. and Perfectly.
My Voice, my Brothers voice, my MOMS voice – man… he had our phone down.
Bird:  *rrrrringggggggg*  *rrrrinnnng* *BEEP* (mom's voice) Hello? Uh-huh.. Uh huh… ok.  OK>  Yep!  Sounds Good. Ok.  Bye!  *BEEP*
He'd have the whole one-sided conversation.  Sometimes he'd just do the ringing and you'd go running for the phone before realizing that it was HIM ringing, and not the real phone.  He had the coolest parrot cage ever, and would unlock himself every morning and climb up – and then at night, he would climb in – and RE-lock his cage and say things like.. 'nighty night!' and 'sweet dreams!'
He tortured our cats so bad.  He would slowly crawl down to the bottom of his cage, and hang his head off  – JUST a little… and say … 'HERREEE Kitty Kitty Kitty Kitty…. Want Lunch??'  And then go back up quickly so as not to get eaten.
He could say just about anything, in just about anyone's voice.  I'd swear sometimes that my mom was home because Paca would say something in her voice.  It was nuts.
My Brother gave the pet back to it's original owner after about 10 years of owning it himself.  He misses this bird really bad too.
I found a few videos on YouTube with African Greys – OF course we don't have any from our old parrot – but These ones are equally as cool and can show you their spectrum of ability –
So as I was searching through these YouTube videos (which btw there are A TON of videos with birds/African Greys especially that are really cool) I saw this one of another parrot – And the *EXACT* reason why you wouldn't want a bird like this if you have a baby….
This kills me..  The poor owners of this bird will never get peace!
So. Our overall goal is to never have pets.  They are COOL and Cute and Fun to have around sometimes, but they're also work – and more mess to clean up after – and they can sure rack up a hospital bill when they get hurt!
When we moved, we made sure to find an area that neighbors had pets… just in case if our kids wanted a dog, they could walk the neighbors dog or something.
I know.. I love them. I do.  But. I just don't want/need the extra responsibility.
So no, thank you.
Tell me about your pets!!