I don't.
I am an all-disposable diaperer.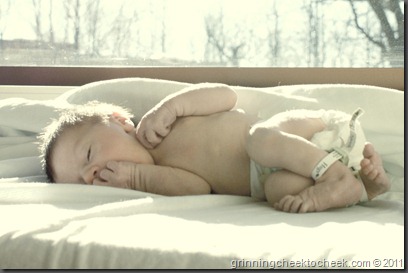 I am about to take on a Huge— (breathe, Amy..) Adventure.
I seriously get a little bit winded just thinking about what I am setting myself up for. My heart starts racing, and my vision gets a little blurry, and I start thinking of all the fun – but all the… not-so-fun… that I'll have.
………………………………………………………………………………………………
I. am. SWTICHING…. to Cloth.
………………………………………………………………………………………………
There. I said it.
My husband is freaking out. I think he is getting more panicked than I am.
For 2 1/2 years we have used disposable diapers.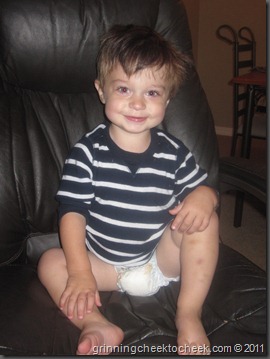 But. I think about it every time I have to buy diapers again. (which, I always do with coupons and even the majority of the time on Amazon.com where I get 30% off disposable diapers.) For my two boys I spend approximately $58.00 per month on diapers, or $1.92 per day if you base it on a per diaper cost.
I used to use the excuse that we didn't have our own washer and dryer.. but now we do. and it's beautiful.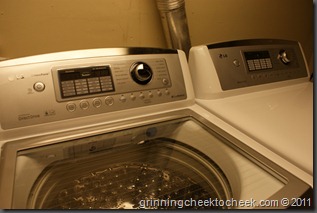 I am (of course) going to make an entire event out of it, and blog through the trials and frustrations, or happiness and excitement of it all. Because, half of me is REALLY excited.
SO. I am in the works of getting together several companies to join forces with me on this journey as I learn – and teach – the in's and outs of cloth diapers.
Just a quick "before" photo of our diaper changing area: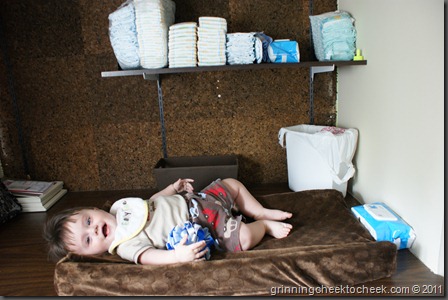 Some of our main concerns right up front:
Is it REALLY cheaper? Even switching at this stage of the game? My boys are 2 1/2 and 8 mos old, and we're not sure if we're going to have any more
How messy is this going to get?
What if my kid gets Diarrhea? EW!
How often am I going to have to do laundry?
How much more often will their diapers need to be changed?
Will we have to carry extra clothes with us in case if WE get wet from a wet diaper on our lap??
What about Granparents? or Church? Will they know what to do? or are we still going to buy disposables so the boys 'fit in' in social places.
Will our 2 1/2 year old even consider wearing a soft cloth diaper??
What if he retaliates?
Will they feel different to my kids??
Am I going to have to buy special detergents and particular laundry bags?
What about when we're out of town? Where will the 'dirties' go?
Will our water bill go up from all the extra laundry?
What about our detergent bill?
Are we just spreading the cost of diapers somewhere else?
Will my husband tell me to change all the diapers because he doesn't want to 'deal' with the poop?
Will my husbands big hands be able to snap those snaps??
How will my kids' clothes fit around a cloth diaper??
Will they look funny?
I think #1 is dealing with the mess of poop, and a close #2 would be laundry.
I'm looking for experience, and wisdom. I know NOTHING about the cloth diapering world I am entering into – and to be honest, I'm afraid to look and get turned off. From what I've seen so far – there are just SOOO many options! I just have to Jump!
Follow my Cloth Diaper Journey and Event !!