I'm kind of like Pavlov's dog…. you say Chocolate, and I'm going to start salivating.
Unfortunately – chocolate likes me, too…. It likes my hips, and thighs, and arms.. yeah, and pretty much anywhere else it can find a comfy resting-place.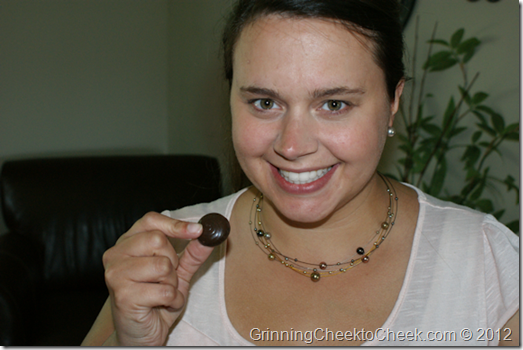 So while I've been a little indulgent with chocolates lately, I still didn't hesitate one bit when Hershey's contacted me to do a review and talk to you all about their new Simple Pleasures chocolates!
I opened the bags right when I got them, without even really reading them (Ok, so maybe I took a few pictures…)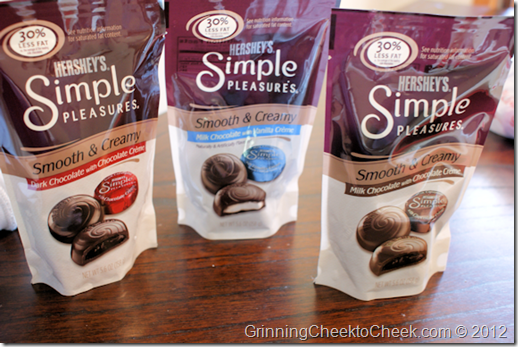 But I didn't really read the bag!
Both kids were hassling me to open the bags, and… to be honest, I just needed the chocolate myself!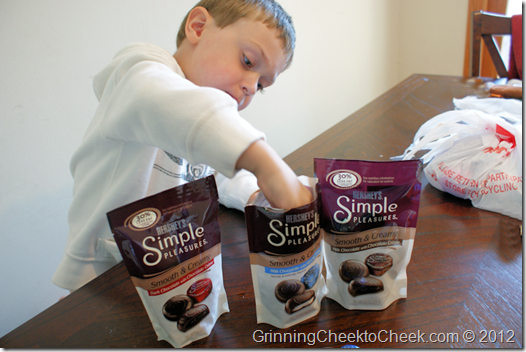 So we opened up the first one that Andrew grabbed.
Ethan was all over them, too.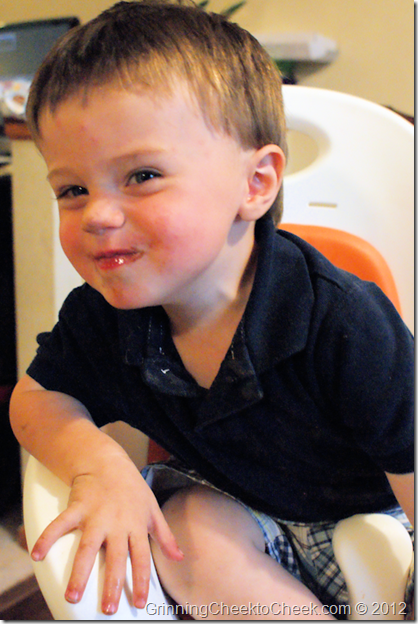 We all taste tested a few of them – and I'm not sure I could tell which was the boys' favorites – but I had a clear winner.  I definitely liked the milk chocolate ones…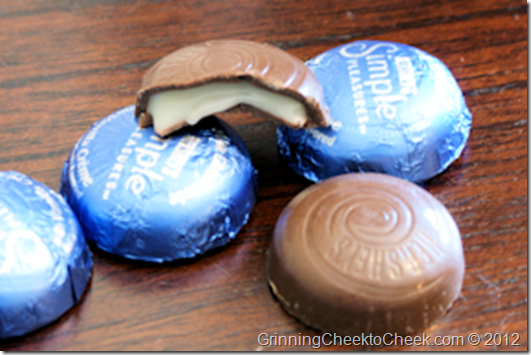 Until a few days ago when I finally tasted one of the dark chocolate ones.  (I'm not normally a fan of dark chocolate.) But oh.my.word.  Seriously – soooo good.  I've quietly savored this entire bag over the last few days – not sharing with anyone.
So after snacking on these chocolates over the last week or so – I FINALLY read the bag.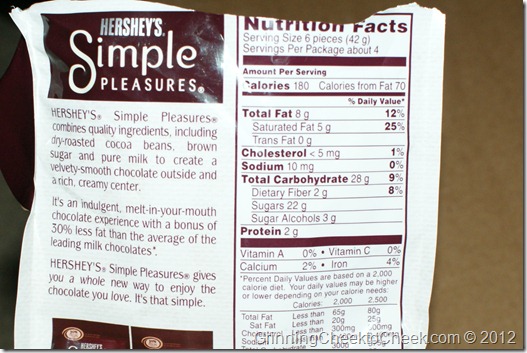 Six pieces are a serving… But I'm really 'good' after 2…
So I did the math, and found out that they are really ONLY 30 calories EACH!
Not only that, but Hershey's Simple Pleasures chocolates have 30 percent less fat than the average leading milk chocolates.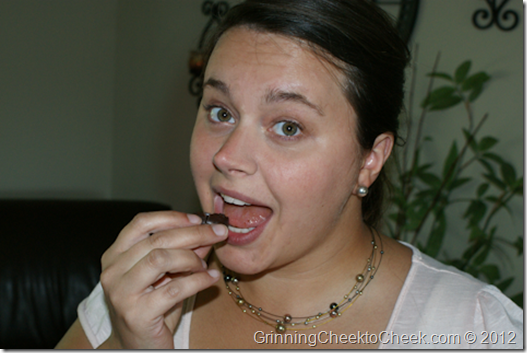 So – I was enjoying and indulging in the last two of the dark chocolate with chocolate cream Simple Pleasures and I almost screamed!
I can actually feel a little bit better about eating chocolate with Hershey's new Simple Pleasures.
That's what I call "Sweet Independence".
To celebrate Sweet Independence – you can visit Hershey's Facebook page and sign the Declaration of "Sweet Independence," prompting you to enjoy life's simple pleasures and live a balanced lifestyle. Weekly prizes of Simply Pleasures and even $100 Gift Cards will be awarded!
While I would have loved to talk to you about Hershey's and chocolate any day – I do have to mention that this post is sponsored by Hershey's through The Motherhood – and that I was compensated for my time in reviewing the products.  All opinions expressed here are my own, and compensation did not affect my opinion.  I simply love chocolate – especially low-calorie chocolate that tastes just as good as high-calorie chocolate!