We're having ammonia issues again.  Not but a few weeks after the last time.  However – this time, I'm positive that I did everything right.
I've been pre-rinsing all the diapers in a 30 minute cold rinse + spin cycle.
I've been using a measuring spoon to measure the exact detergent.
Only using the diapering detergent.
Adding extra water to each cycle.
Increased hot water heater so the diapers are washing in hot water.

With all of these extra steps I've been taking, I am still getting the strong ammonia in my night time diapers.  So. While my daytime diapers aren't going anywhere…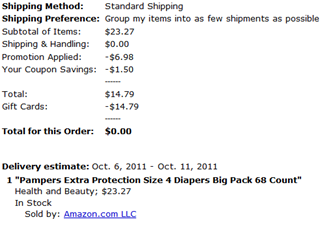 I ordered night time diapers. 
And guess what? 
I feel GREAT about it.